Switzerland, with its stunning Alpine landscapes and picturesque cities, is a country that often feels like it's straight out of a fairy tale.
As you plan your Swiss adventure, check out these Instagram-worthy hotels. These gems offer more than just a stay; they offer a fairy tale come to life. Explore Switzerland's best hotels, where every view is pure enchantment.
Check out our other round-ups for The Best Hotels in Venice for a Romantic Getaway.
This article contains affiliate links. We may earn a small commission if you book through the links, at no extra cost to you. This commission helps support the operation of this website. Thank you!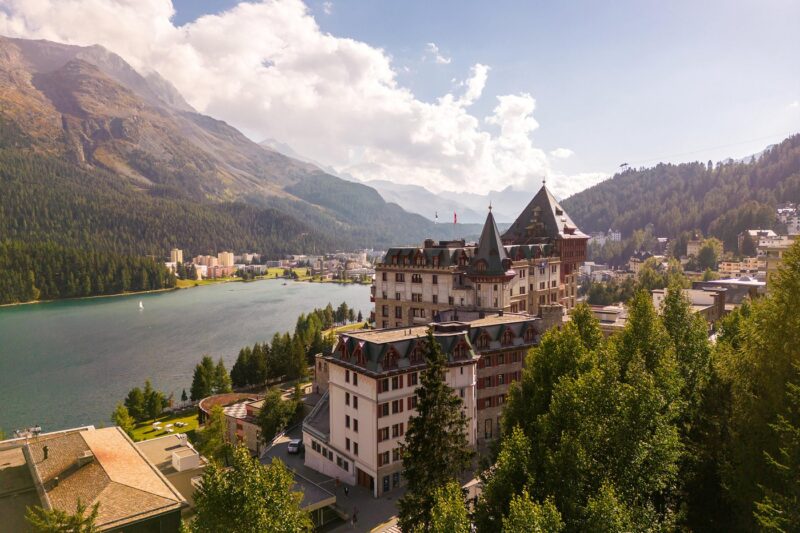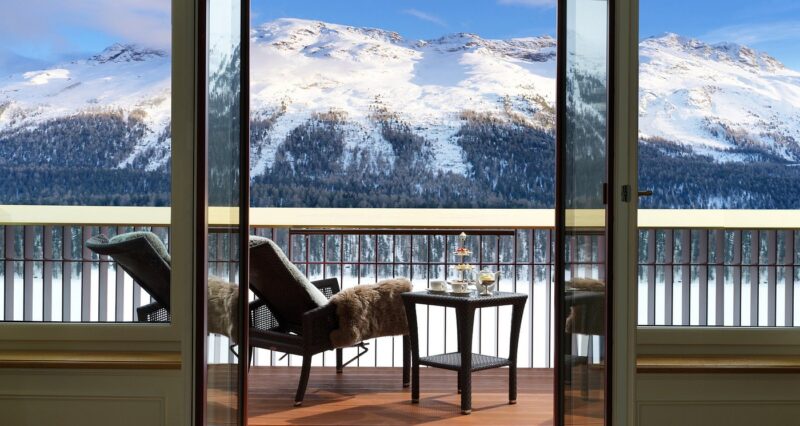 Let Badrutt's Palace Hotel spoil you with its legendary service, and experience the most magical atmosphere in the heart of St. Moritz. When you picture the ideal holiday in the Swiss Alps, images of snow-dusted villages and fireplace-filled hideaways probably dance through your head. That vision is perfectly replicated at Badrutt's Palace Hotel, an impossibly luxurious stay in St. Mortiz. The lakeside hotel has been drawing well-heeled travelers since 1896, and it continues to impress with mountain vistas, 13 on-site restaurants and bars, and activities ranging from winter skiing to summer paragliding.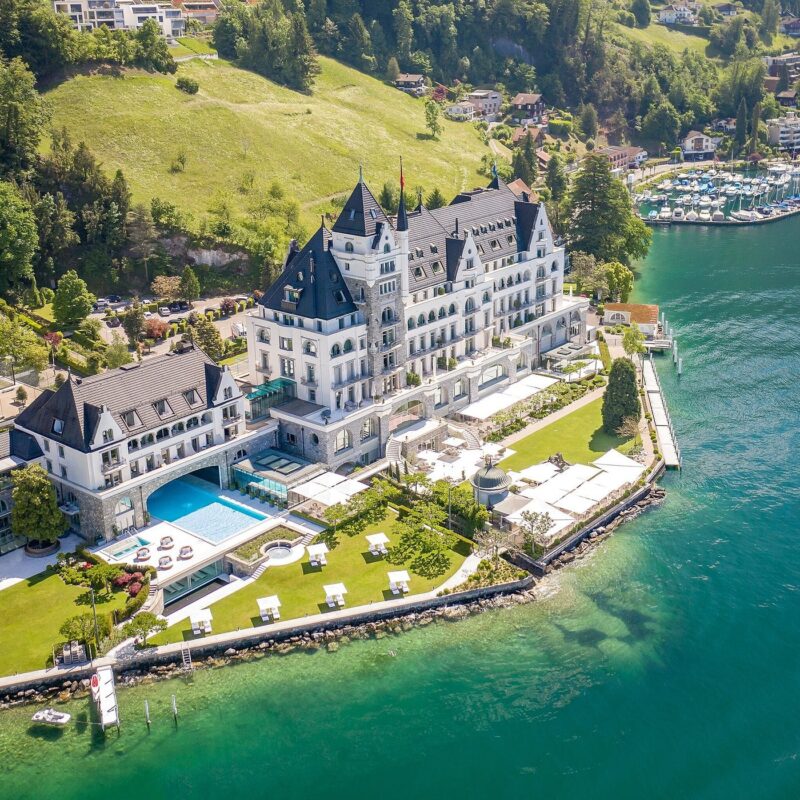 Nestled among the breathtakingly beautiful Swiss mountains and framed by a shimmering lake, Park Hotel Vitznau is a transformative destination. It surrounds you with stunning natural beauty, but there's more. It resides in a 100-year-old castle with turrets and stone, sprawling balconies, and lush manicured gardens.
During your visit, check out one of Vitznau's popular French restaurants, such as Restaurant FloraAlpina and Hohle Gruebisbalm, all a short distance from Park Hotel Vitznau.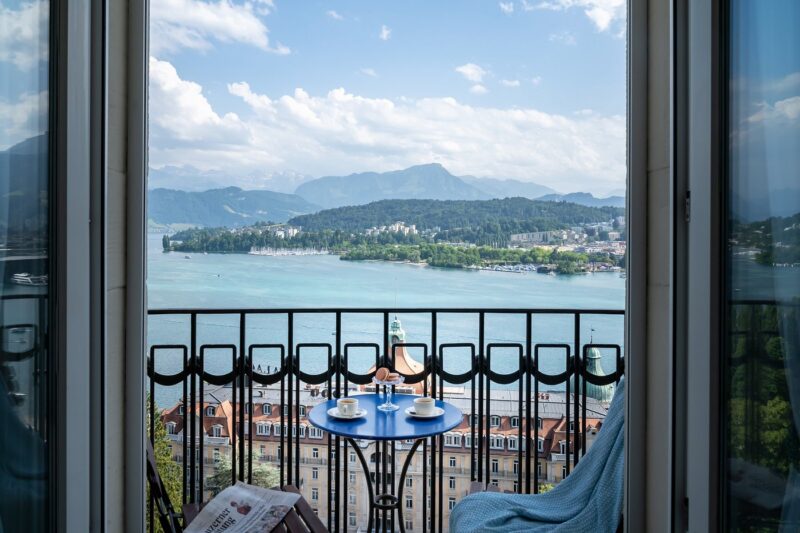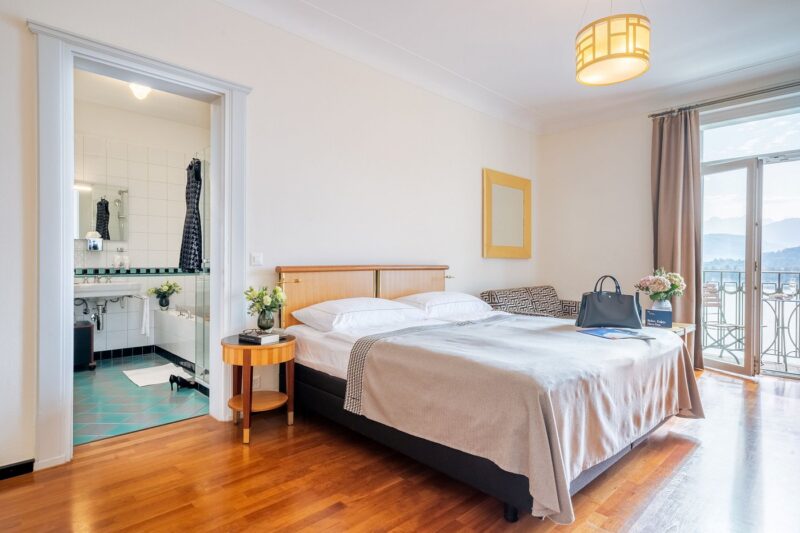 Whether you seek a romantic escape, a cultural adventure, or a luxurious break, the Art Deco Hotel Montana in Lucerne promises an unforgettable experience combining the best Swiss hospitality with the timeless allure of Art Deco elegance.
The hotel offers a variety of rooms and suites, each exquisitely designed to blend comfort with style. Many of these spaces offer breathtaking views of Lake Lucerne and the Alps, providing a stunning backdrop to your stay.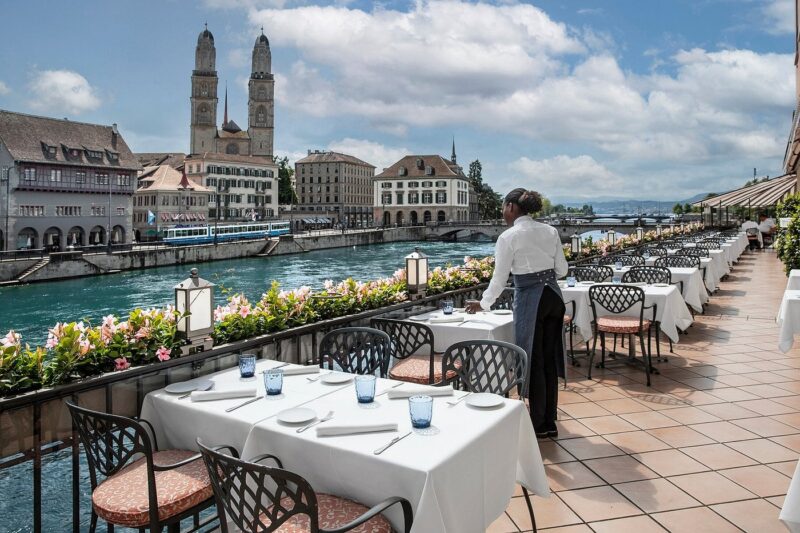 Nestled beside the tranquil Limmat River in Zurich, The Storchen Zürich is more than just a hotel; it's a living piece of history that has been enchanting travelers for centuries. This charming boutique hotel combines Swiss hospitality with luxury to offer an unforgettable experience right in the heart of Zurich.
When the sun shines, The Storchen Zürich's Riverside Terrace is the place to be. It's an oasis of open-air relaxation where you can enjoy cocktails, fine wines, and delicious food while watching the world go by along the Limmat River. This boutique hotel is your gateway to an authentic Swiss experience you'll treasure for years!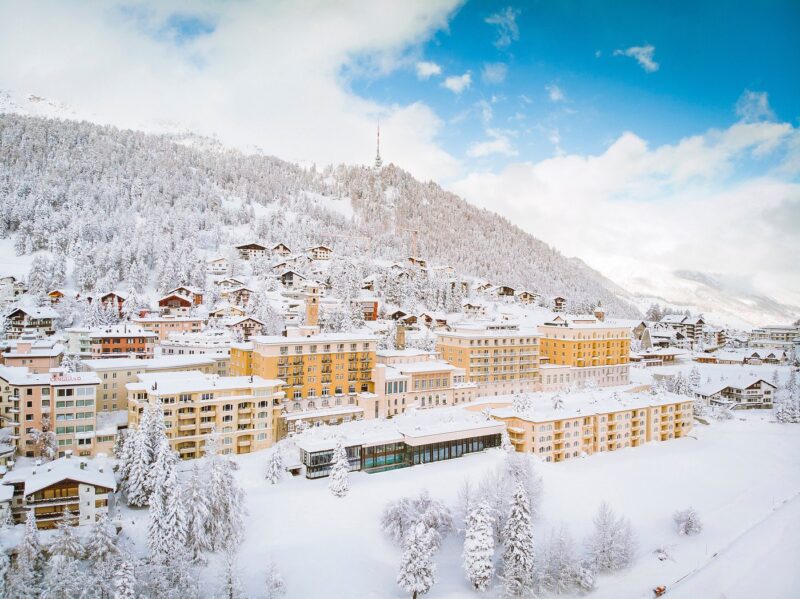 The Kulm Hotel St. Moritz is located in the heart of St. Moritz and offers breathtaking views of Lake St. Moritz and the Engadine Valley. The 5* superior hotel has an incomparable air of luxury, tradition, modern comfort, and warm hospitality. The property is renowned for its exceptional culinary offerings, outstanding service standards, magnificent 150 rooms and suites, and wide-ranging health and fitness offerings, including its spectacular modern spa with an outdoor pool, whirlpool, sauna, and children's pool. A nine-hole golf course, three tennis courts, and a natural ice rink in winter complete the offer.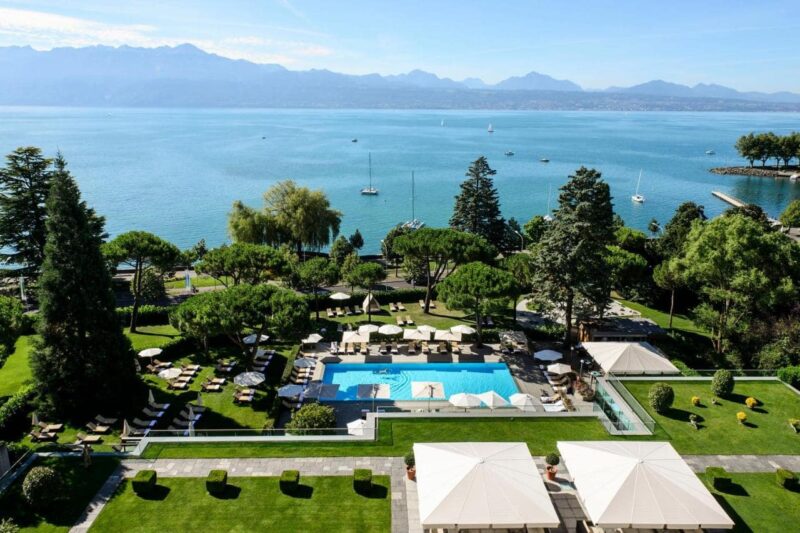 Sitting on the shores of Lake Geneva, Beau-Rivage Palace looks like a true fairy-tale setting: think acres of gardens, a stunning Belle Époque facade, and thin outdoor pools glittering down the hillside. Its rich history, luxurious accommodations, world-class dining, and serene surroundings create an enchanting experience. Whether you're here for a romantic getaway, a family vacation, or a business trip, the Beau-Rivage Palace promises a stay that will forever be etched in your memory.
Regarding accommodations, guests at the Beau-Rivage Palace are spoiled for choice. You can handpick your preferred view – whether it's the majestic Alps, the serene expanse of Lake Geneva, or the vibrant heart of Lausanne's city center. And for an extra dose of charm, some rooms and suites even come with your private balcony or terrace, the perfect spot to savor your preferred view.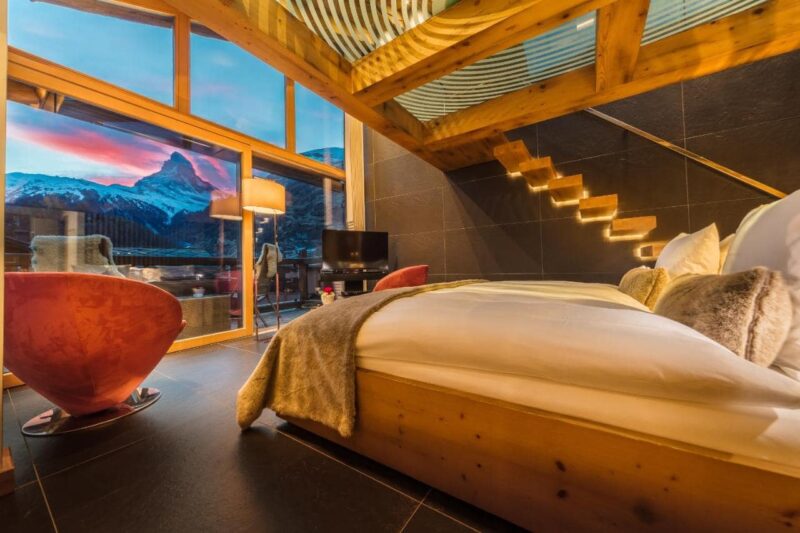 Nestled in the heart of the Swiss Alps, Hotel Bellerive in Zermatt offers a warm and welcoming haven for travelers seeking an unforgettable mountain retreat. With its stunning views of the iconic Matterhorn, charming Alpine design, and impeccable service, this family-run boutique hotel provides the perfect backdrop for your Swiss adventure.
The hotel's rooms and suites are designed with your comfort in mind. Each accommodation boasts plush furnishings, soft linens, and charming Alpine touches. Many rooms offer balconies with breathtaking views of the Matterhorn, allowing you to wake up to one of the world's most iconic mountain vistas.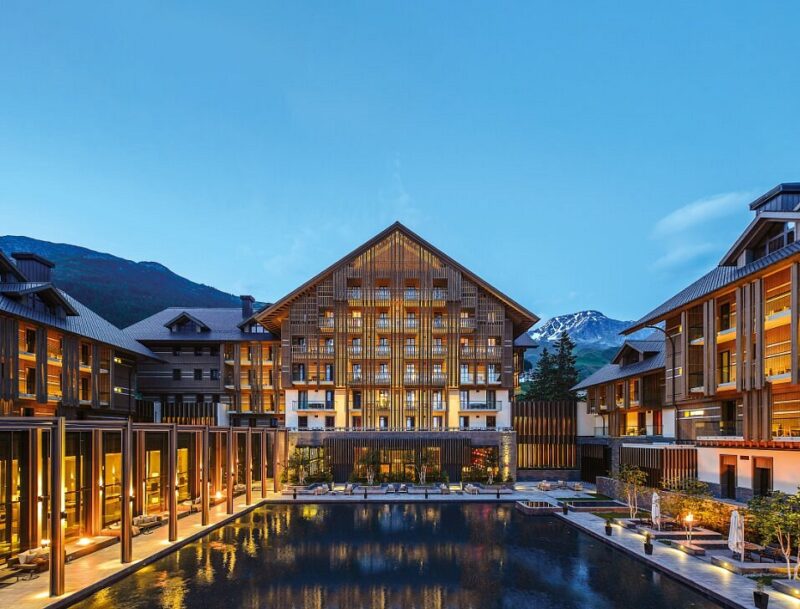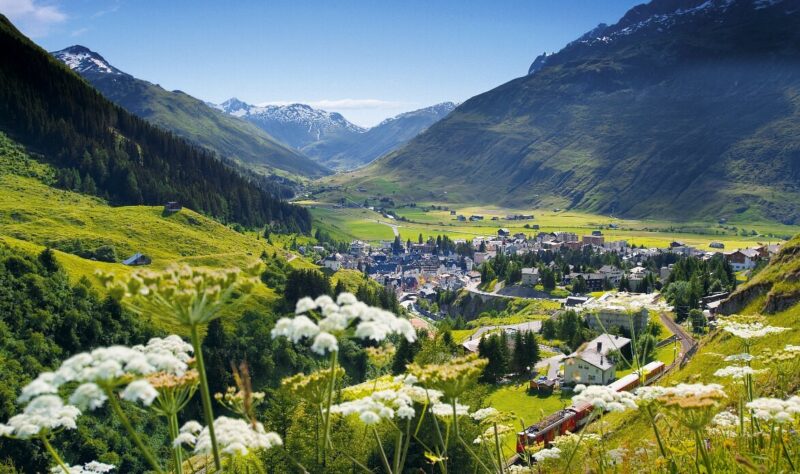 Alpine chic meets Asian zen – surrounded by the natural beauty of the Swiss Alps, the Chedi Andermatt offers an extraordinary blend of traditional local hospitality and Asian grace and elegance and sets new standards in the international luxury hotel market. Owned by the Singapore-based GHM hotel group, the hotel looks like a modern ski villa on the outside but features sleek open fireplaces, sushi restaurants, and contemporary room furnishings behind its doors.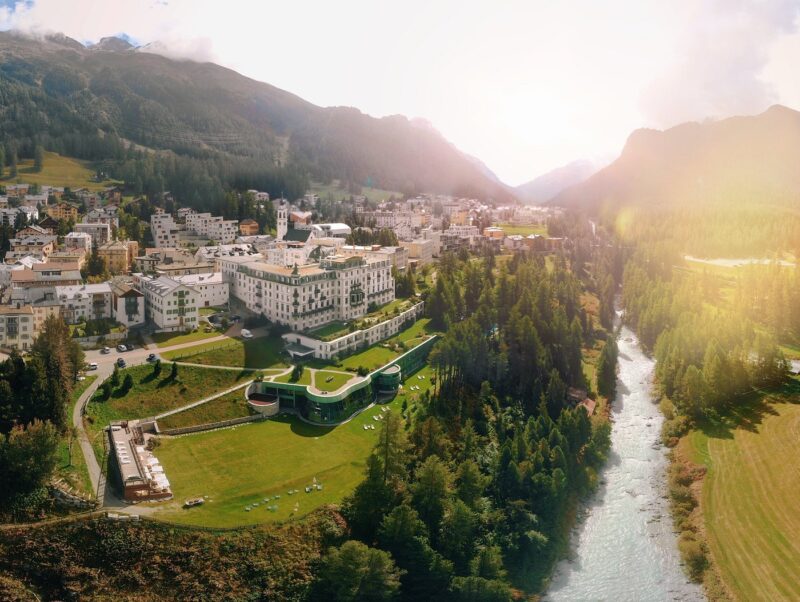 The Grand Hotel Kronenhof stands in the very heart of Pontresina and has a rich and interesting history, having first opened its doors in 1848. At 1,800 meters, guests can enjoy 112 elegant, partly newly renovated rooms and suites, three restaurants, recently refurbished public areas on the bel étage with the magnificent lobby lounge, the Fireplace lounge, and the Kronenhof Bar, as well as one of the most impressive wellness facilities in the Alps. As the only superior hotel in town, it combines a great location with impressive architecture, breathtaking views, and excellent cuisine.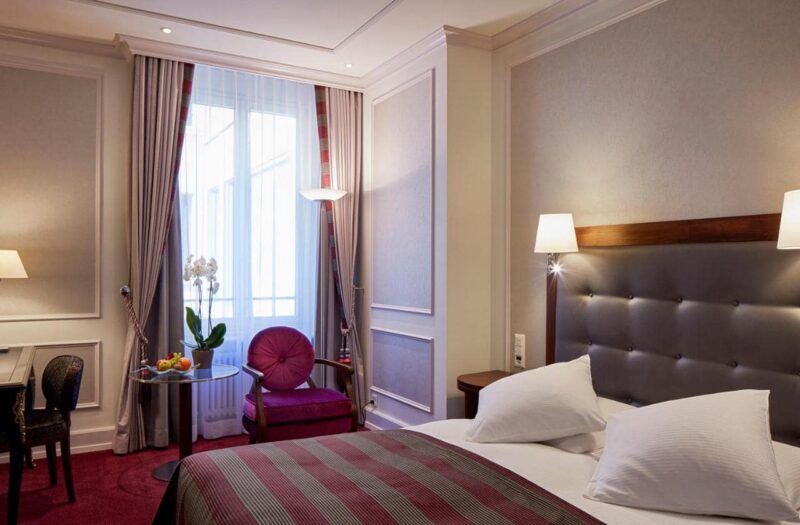 The historical Hotel Schweizerhof is located opposite Zurich's central station and is the ideal starting point for visiting the city by the banks of river Limmat. The famous pedestrian shopping street "Bahnhofstrasse," with its exclusive shops, is just a stone's throw away from the hotel's doorstep. Zurich's up-and-coming neighborhood, "Europaallee," the classic financial district by "Paradeplatz," and Zurich's sightseeing spots are all within steps of the hotel.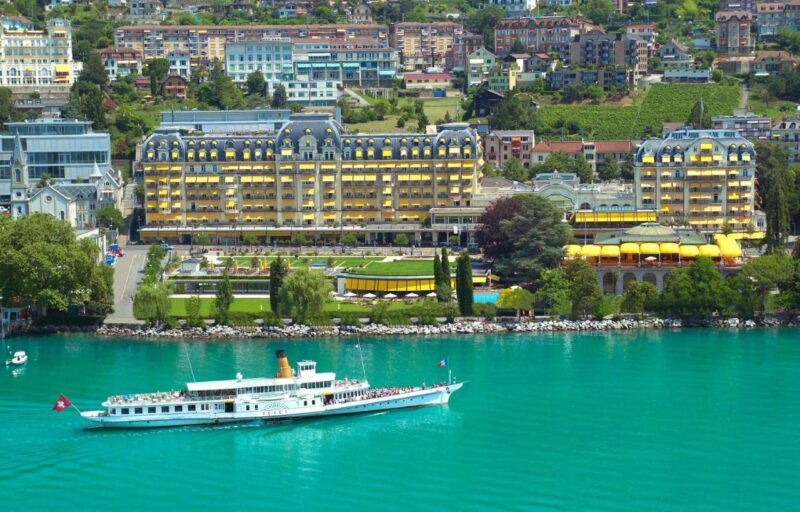 Fairmont Le Montreux Palace is a unique five-star luxury hotel situated on the shores of Lake Geneva in Switzerland, overlooking the Alps. Built-in 1906, this Jewel of Belle-Epoque architecture offers a traditional and elegant atmosphere and personalized and attentive service in true Swiss style. The Montreux Palace offers 236 rooms and suites that are luxuriously furnished, designed with five-star standards and amenities, and equipped with the latest technology. Fairmont le Montreux Palace has become the destination for unique and unforgettable weddings and proposals.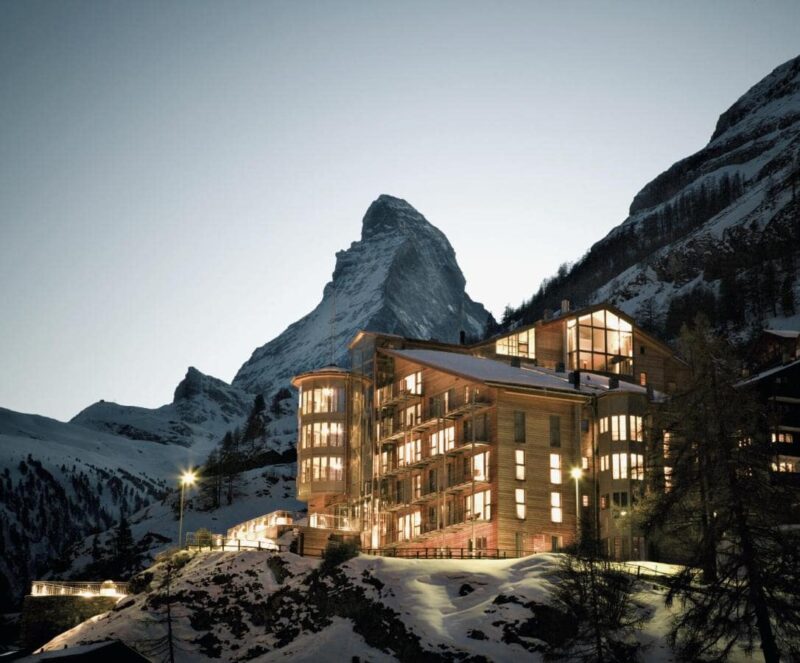 Perched atop a rocky perch with commanding views of Zermatt, OMNIA Hotel reimagines the classic alpine retreat with a touch of contemporary American flair. American flair. Ascend in a breathtaking glass elevator integrated into the mountainside, where you'll be greeted by a luminous lobby and staff wearing Marc Jacobs uniforms.
This sense of tranquility extends to the expansive wellness haven, where you can unwind in an indoor-outdoor pool, Finnish sauna, botanical-infused steam room, Turkish bath, and an outdoor whirlpool offering panoramic Matterhorn vistas. Here, you can forget time, where you come from, and where you are going. Enjoy life with all your senses.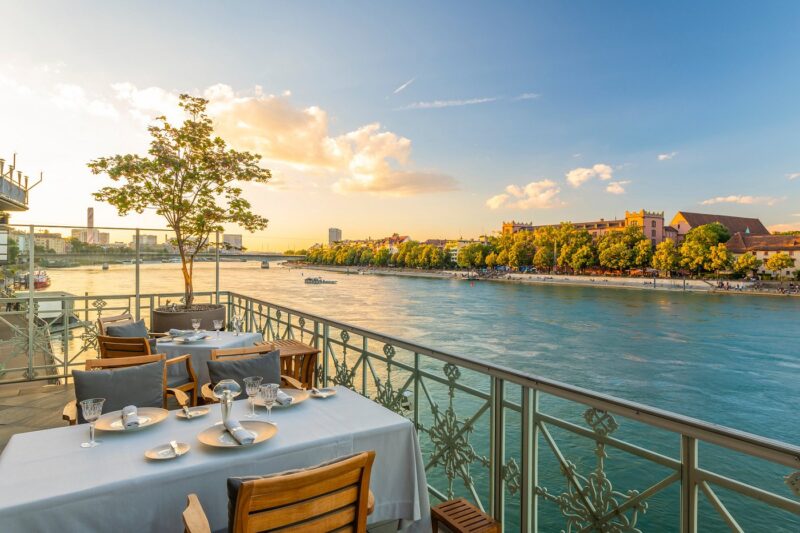 While many Swiss cities are awash with five-star hotels, Basel has just one: Hotel Les Trois Rois, a Belle Époque beauty on the banks of the Rhine, at the exact spot where, in the Middle Ages, the ships docked at the salt tower to transport that much sought-after product down the Rhine and out into the world. The 101 guest rooms and suites are just as sumptuous, with thick curtains, dark patterned wallpaper, and velvet furniture.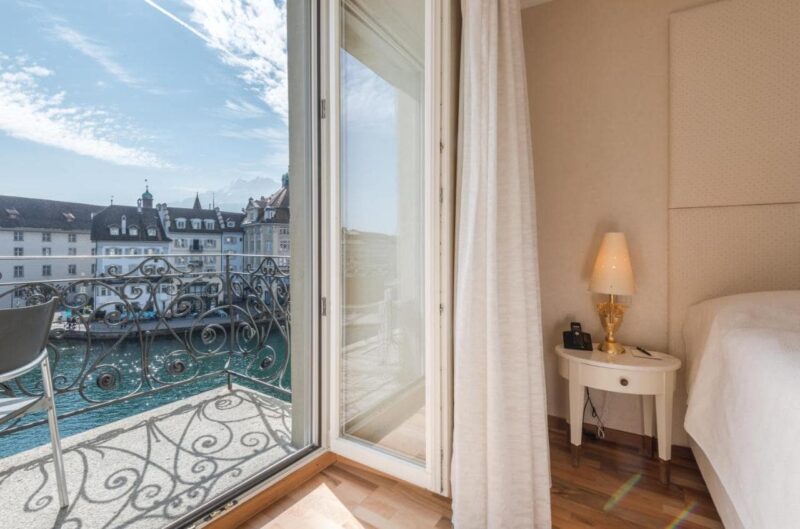 The Hotel Des Balances – a superior property – is located in the beautiful heart of Lucerne's Old Town. The ideal starting point for shopping and sightseeing. The hotel has 56 stylish rooms and suites with a view of the famous Chapel Bridge, Jesuit Church, and Mount Pilatus. Enjoy market fresh creations in the Restaurant Balances with lounge, bar, and terrace directly at the river Reuss.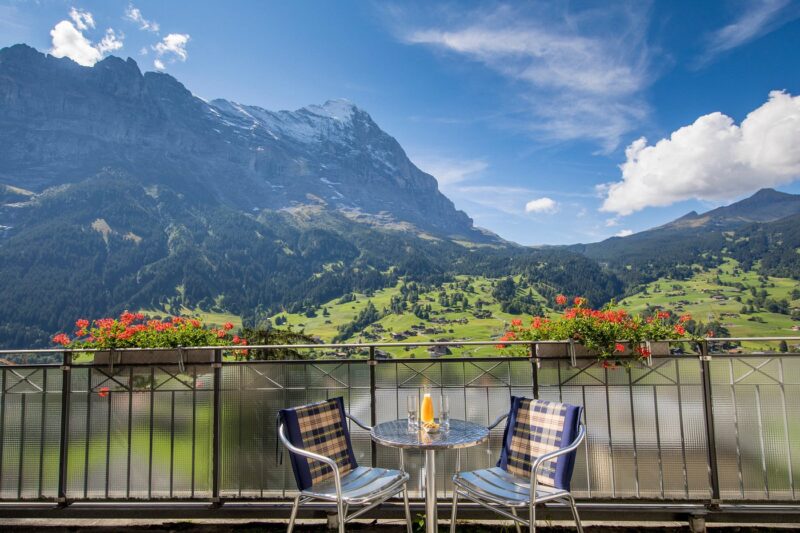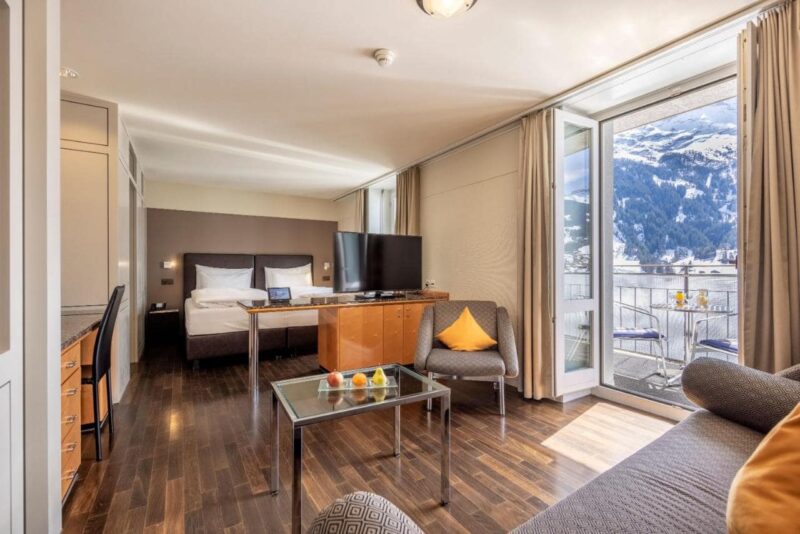 Nestled in the heart of the Swiss Alps, the Hotel Belvedere Grindelwald is a mountain paradise that combines traditional Swiss charm with modern luxury. Surrounded by the breathtaking Eiger, Mönch, and Jungfrau peaks, this hotel offers a gateway to the wonders of nature and a haven of comfort.
The hotel boasts various rooms and suites, each designed to provide a cozy and comfortable retreat after a day of mountain adventures. Many of these accommodations offer stunning panoramic views of the surrounding mountains, ensuring you wake up to the splendor of the Swiss Alps every morning.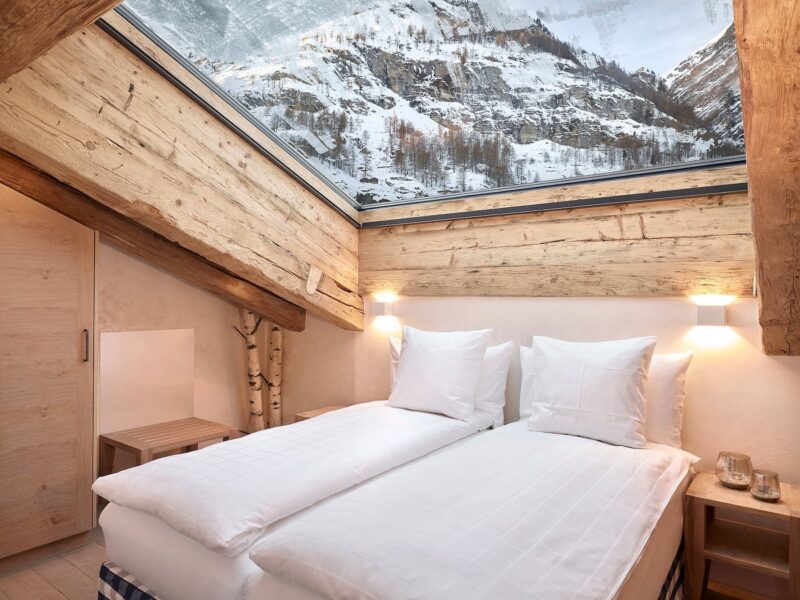 Hotel Firefly Zermatt is more than just a place to stay; it's a sanctuary where you can immerse yourself in the beauty of the Swiss Alps while enjoying the comforts of a luxurious alpine retreat. Whether you seek adventure in the mountains or relaxation in the spa, this boutique hotel promises an unforgettable Swiss escape with a touch of genuine hospitality.
The wood-paneled interiors, plush furnishings, and soft lighting create a sense of warmth and comfort that makes you feel right at home. The spacious accommodations provide a peaceful haven to unwind and recharge for your next day of alpine adventures.
After a day of exploring Zermatt's natural wonders, you can rejuvenate your body and soul in the hotel's wellness area. The outdoor hot tub and steam room perfectly complement a day of adventure.
Whether you're planning a romantic getaway, a family vacation, or a solo adventure, staying in one of these hotels will make you feel like you're living your fairy tale in the heart of Switzerland.
Pin this post to save it for later.