Venice is renowned for its enchanting canals, historic architecture, and rich culture. Whether you're serenaded by a gondolier under the Bridge of Sighs or sipping a Bellini at Harry's Bar, Venice is a city that captivates the senses and the imagination. The magic of Venice is found not only in its canals and cobbled streets, but also in its diverse accommodations that offer a unique blend of history, luxury, and Italian charm.
We've handpicked some of the best hotels in Venice that will make your stay in the Floating City unforgettable. Check out these top 20 best hotels to consider for your Venice getaway.
Check out our other round-ups for The Best Hotels in Santorini, Greece.
This article may contain affiliate links. When you book through these links, we earn a small commission at no extra cost to you. This helps us keep the website up. Thanks for your support!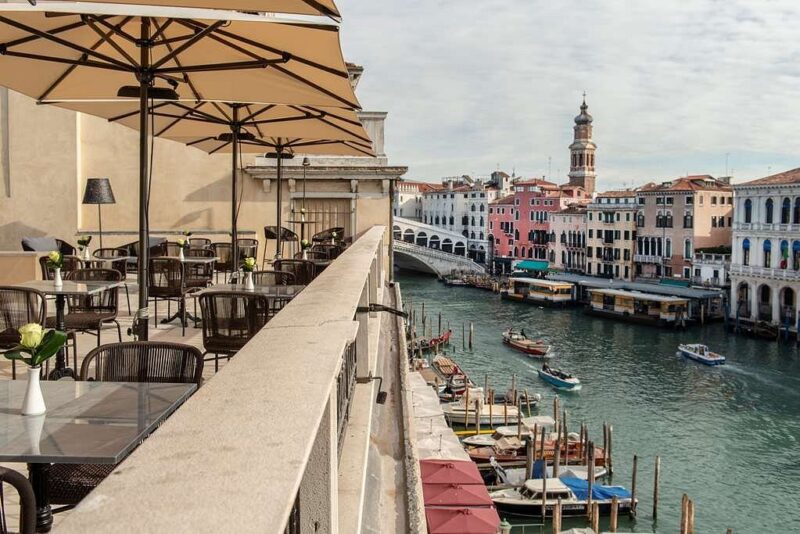 H10 Palazzo Canova is a new four-star superior hotel housed in a perfectly restored 19th-century building that preserves its original architecture. It's located on the Grand Canal, a few meters from the famous Rialto Bridge, in the heart of Venice. Its location, in the most iconic area of the city, allows you to experience the essence of Venice, where you can admire the majestic buildings, palaces, and terraces that line the Grand Canal, the gondolas and vaporettos, as well as enjoy a wide range of restaurants its surrounding area. Its interior design pays homage to the city of Venice and combines contemporary elements with traditional materials such as Murano glass and typical Venetian tapestries and fabrics. The establishment has elegant rooms, a restaurant for breakfast, and a terrace with a bar on the top floor with spectacular views of the Grand Canal.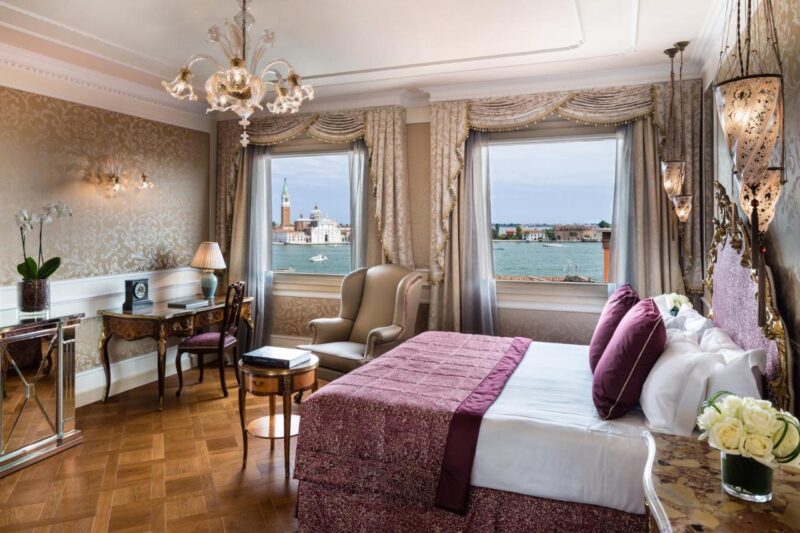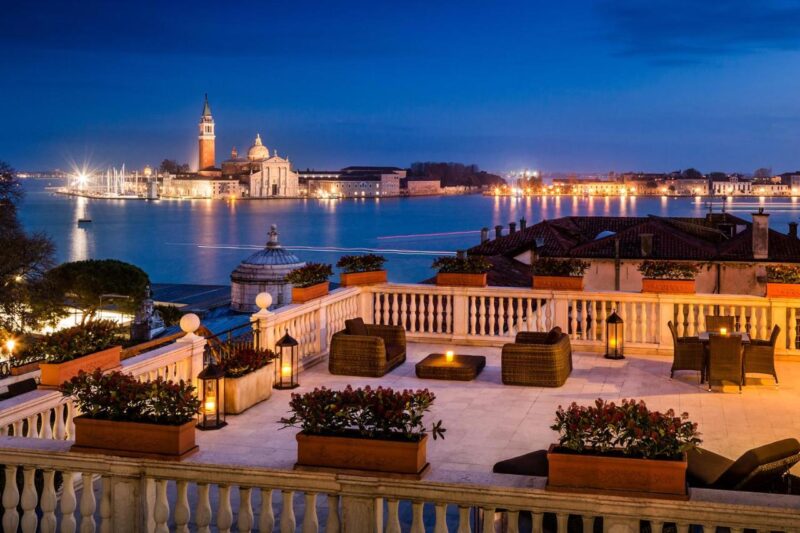 Enhance the magic of your visit with a stay at the Baglioni Hotel in Venice, one of the top-rated 5-star hotels in Venice. Choose from a wide range of romantic rooms and prestigious suites furnished by Baglioni Hotels in the lush Venetian style.
Wine and dine-in style at award-winning Canova Restaurant. Relish the modern interpretation of original Venetian cuisine while feasting your eyes on the historical surroundings.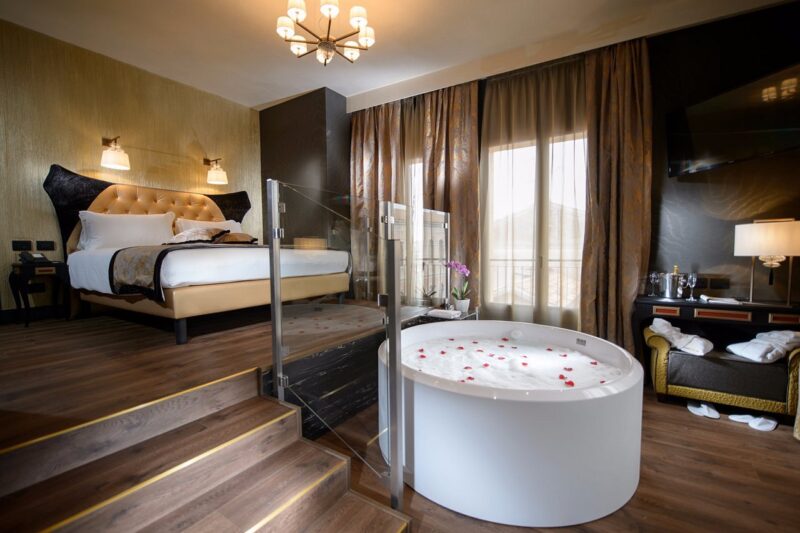 The rooms of Palazzo Veneziano welcome you to the heart of Venice, offering romantic views of the lagoon and modern comforts. Only a short walk away from the Maritime Passenger Terminal, one stop away from St. Mark's Square, and two stops from the Piazzale Roma terminal hub, the hotel's location is ideal and easy to reach. Staying in this 4-star hotel in Venice is perfect for those who want refined settings and luxury services, all close to the city center.
Some rooms have an indoor or outdoor jacuzzi, and others have a private terrace with breathtaking views.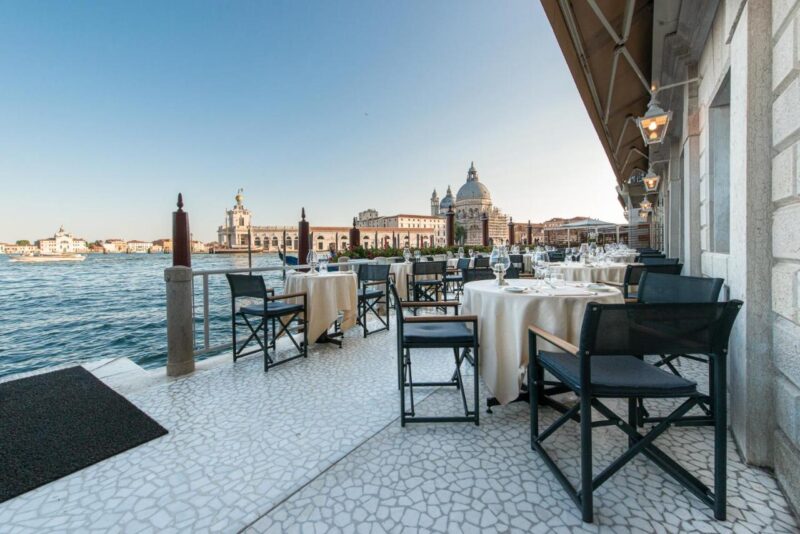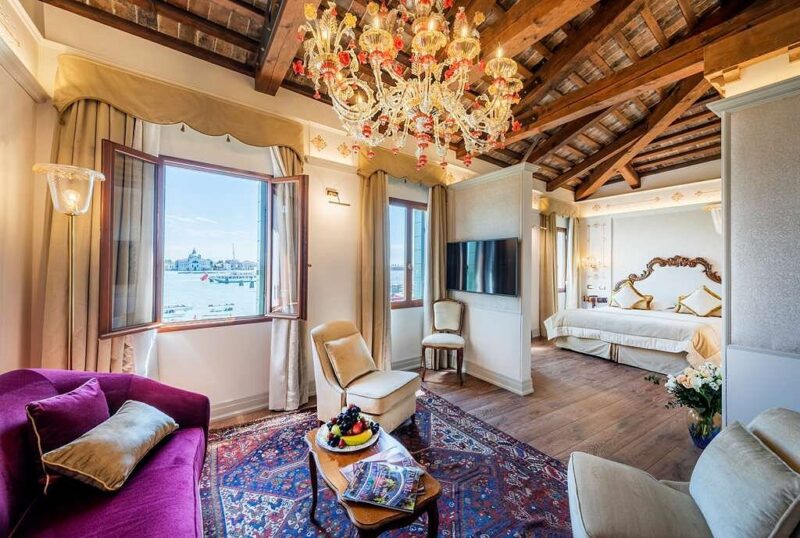 Hotel Monaco & Grand Canal welcomes you inside a historic building from the early 1600s located in the heart of Venice, a few steps from St. Mark's Square, its Basilica, and the Doge's Palace. With its stunning view of the Grand Canal, it offers direct access through its exclusive and scenic "water gate."
The panorama that opens up just in front of you, from the rooms and the restaurant terrace, is extraordinary: you can admire the entire San Marco Basin with the island of San Giorgio and Giudecca, Punta della Dogana and the baroque Basilica of the Madonna della Salute.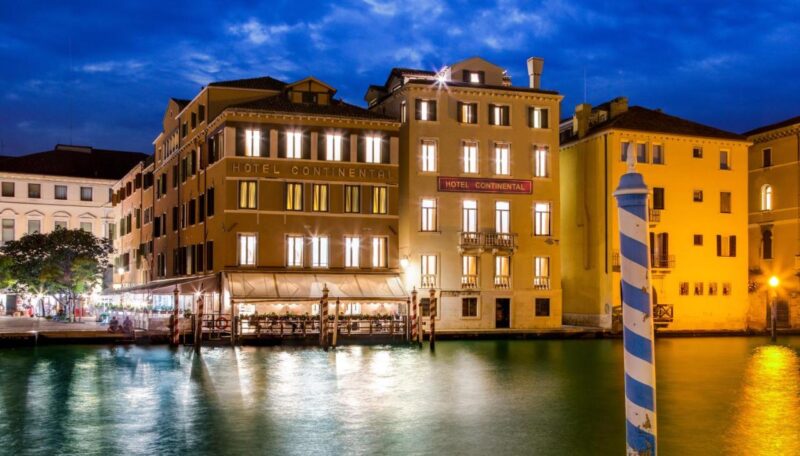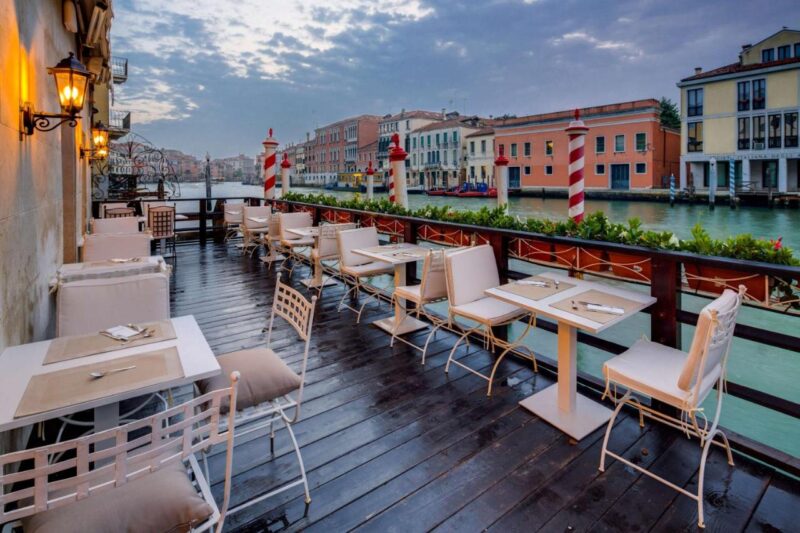 Situated in the heart of Cannaregio, this 4-star hotel is beautifully positioned in one of the most authentic parts of Venice, the Jewish Ghetto.
Getting to BW Premier Collection is easy, whether traveling by train, car, or plane. Besides being one of the closest hotels to the Santa Lucia Venice Station, the hotel is also near Piazzale Roma, where you can park and then walk here in just a few minutes, by taking Lista di Spagna, one of the most ancient and suggestive streets in Venice!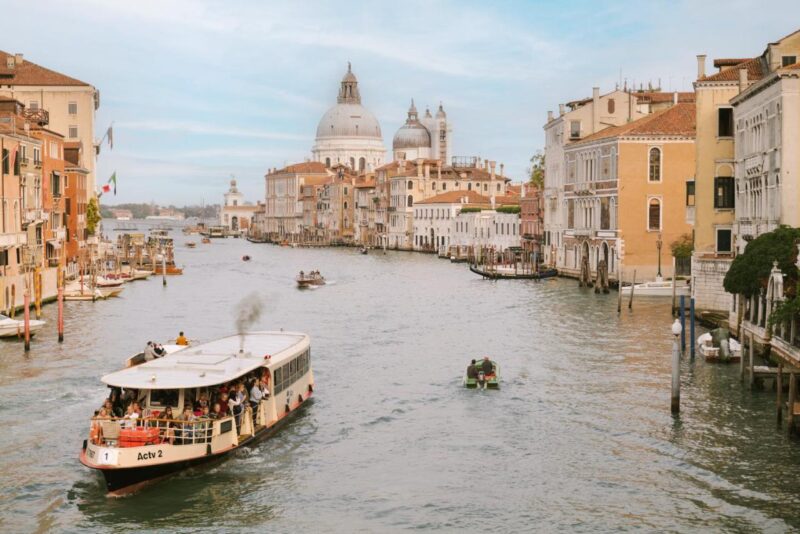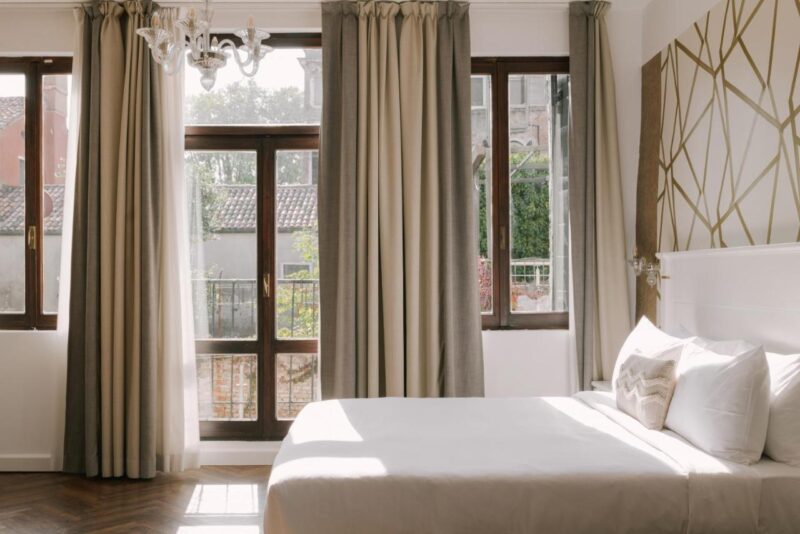 This 16th-century building features a stunning grand reception with floor-to-ceiling windows and a balcony overlooking the Fornace Canal. All rooms and suites have chic furnishings, coffee, and plenty of space to work.
Take a gondola ride through the canals for the best view of Venice. Or spend the day exploring nearby antique shops and museums.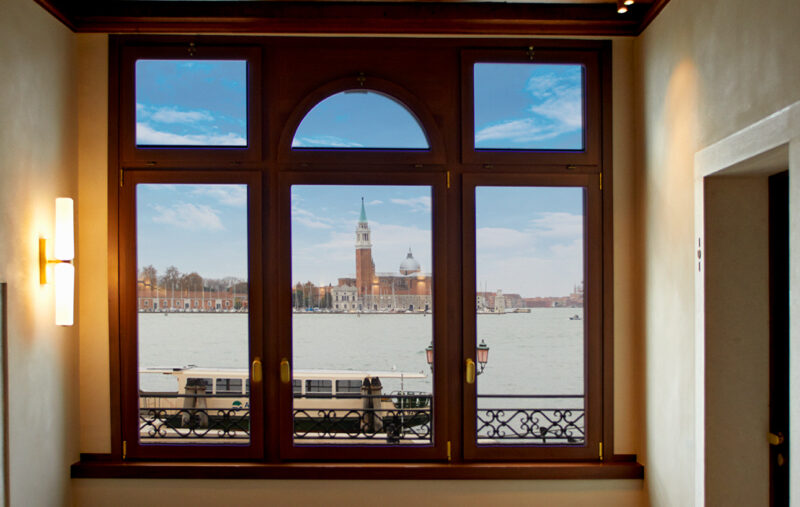 Situated in a privileged position, the "Contemporary Art District," Arsenale, Ca' di Dio Hotel, relishes in the cultural and artistic allure of the Biennale—one of the most prestigious international Art and Architecture exhibitions.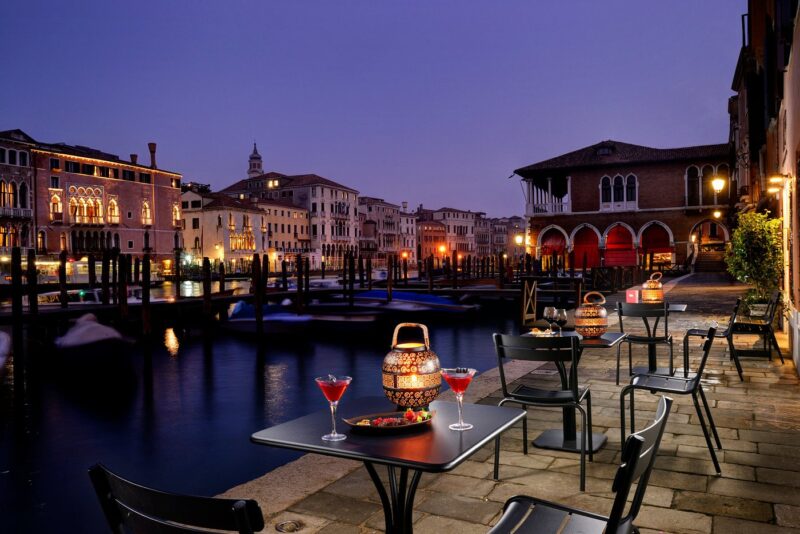 Hotel L'Orologio puts the best of Venice at your fingertips, making your stay both relaxing and enjoyable. The hotel offers guests the opportunity to experience the most romantic city in true Venetian style. If you're looking for something to do, Doge's Palace (0.6 mi), Basilica di San Marco (0.5 mi), and Campanile di San Marco (0.5 mi) are an excellent way to spend some time, and they are all within walking distance of Hotel L'Orologio.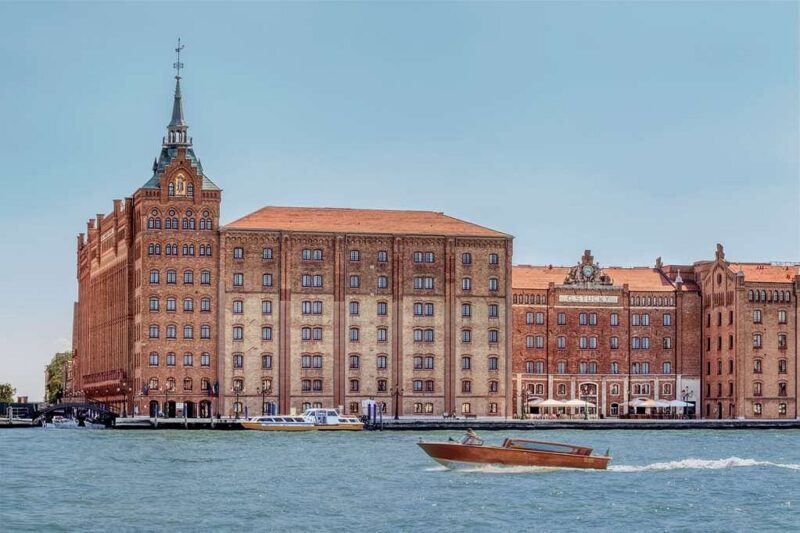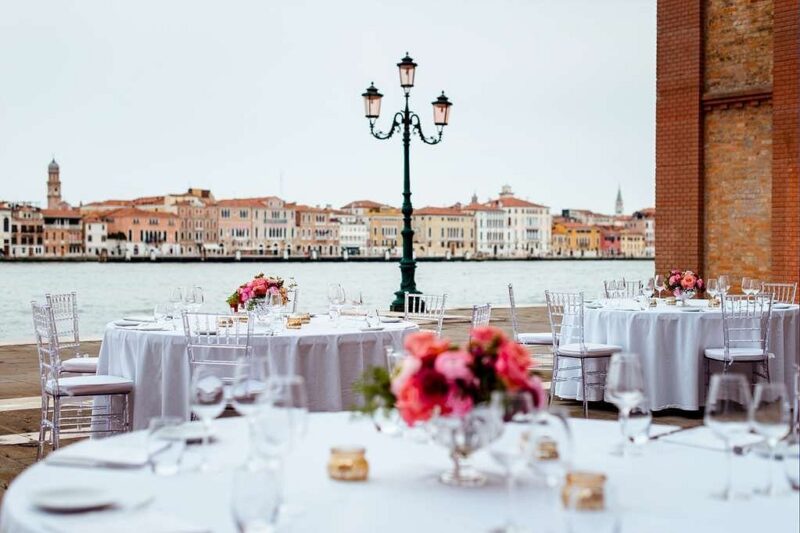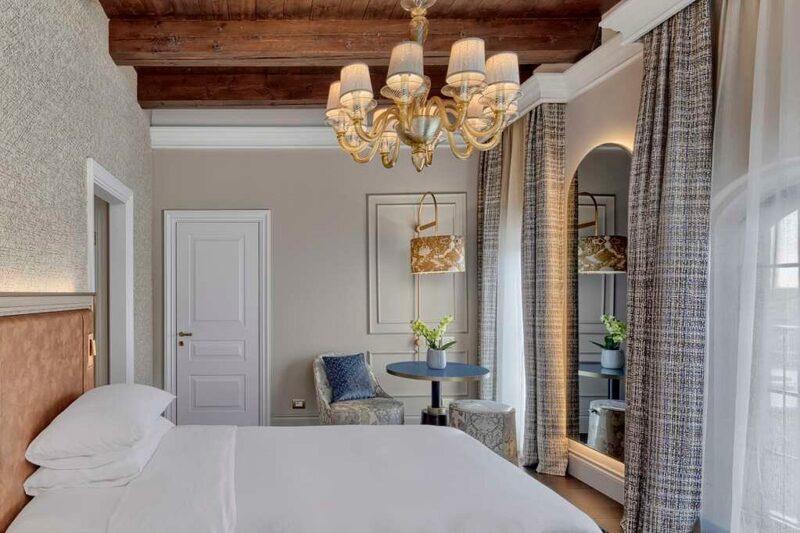 On the banks of Giudecca Island, a thriving artistic center of Venice, stands a modern Venetian Masterpiece. The Molino Stucky, once a flourishing flour mill, is now internationally recognized as one of Italy's iconic pieces of industrial architecture.
A bold statement, with 379 rooms and suites, the hotel manages to balance intimacy with scale. A place of comforting guest bedrooms and unrivaled restaurants, ballrooms, and meeting areas. The hotel offers the largest spa in Venice, outstanding service, fine dining, a rooftop pool and bar with breathtaking views over the city, and a shuttle service.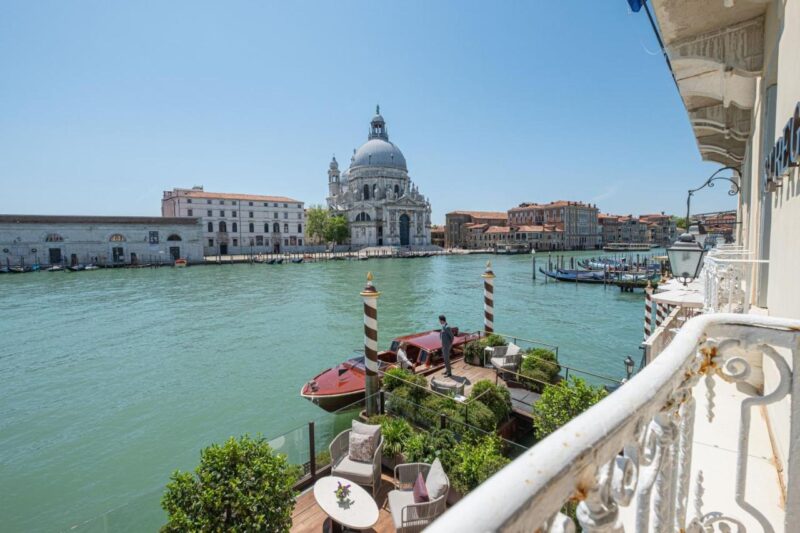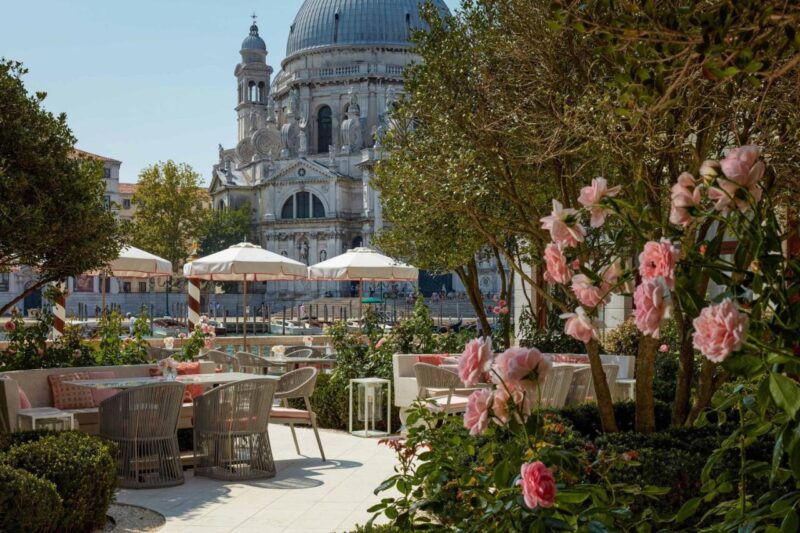 Emblem of sophistication and creator of new trends, The St. Regis Venice combines historical heritage with modern luxury in an exclusive location on the Grand Canal, surrounded by some of Venice's most important monuments. Innovative design and avant-garde vision make the hotel a symbol of cultural curiosity and contemporary innovation in an exceptional context.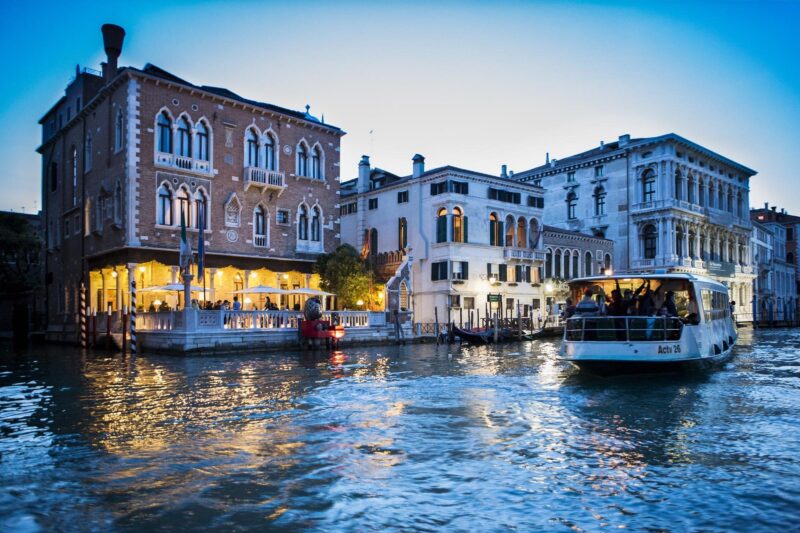 Hotel Palazzo Stern is a historical Moorish Palazzo on the Grand Canal. The location is very convenient: easy to reach, close to the main attractions, and at the same time in a very Venice area. If you are looking for a unique Venetian experience and far from the crowd, this hotel is the right place to choose.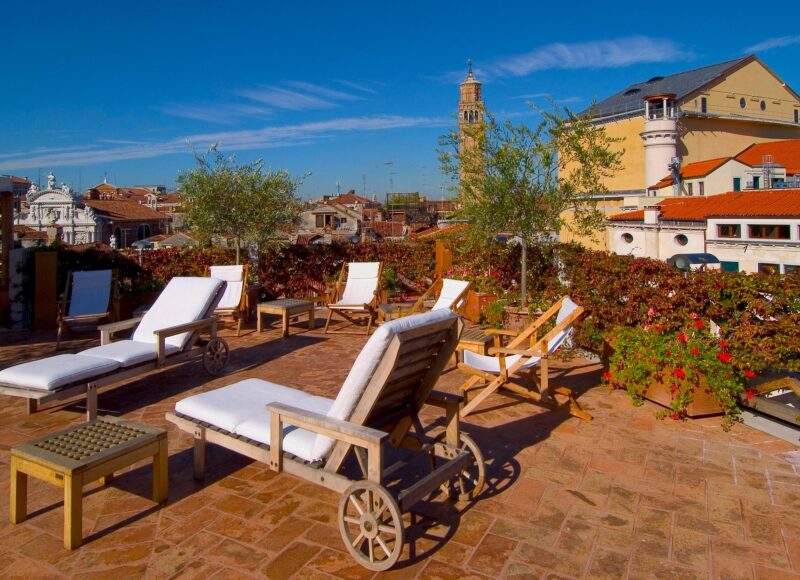 Hotel Saturnia & International is a four-star superior hotel that enjoys a strategic position, nestled in Venice's heart, nearby St. Mark's Square, and La Fenice Theatre. It evokes a truly charming atmosphere, partly a 14th-century palace, thanks to its unique Venetian style. Since 1908 owned and run by the Serandrei family, Saturnia & International is an exclusive family-run hotel that represents today a magnificent fascination of the past along with all contemporary amenities of modern life: TV, air-con, minibar, free WI-FI, and others. Guests can relax and recharge in a brand new Gym & SPA area and a rooftop terrace with a breathtaking view over the Salute Church.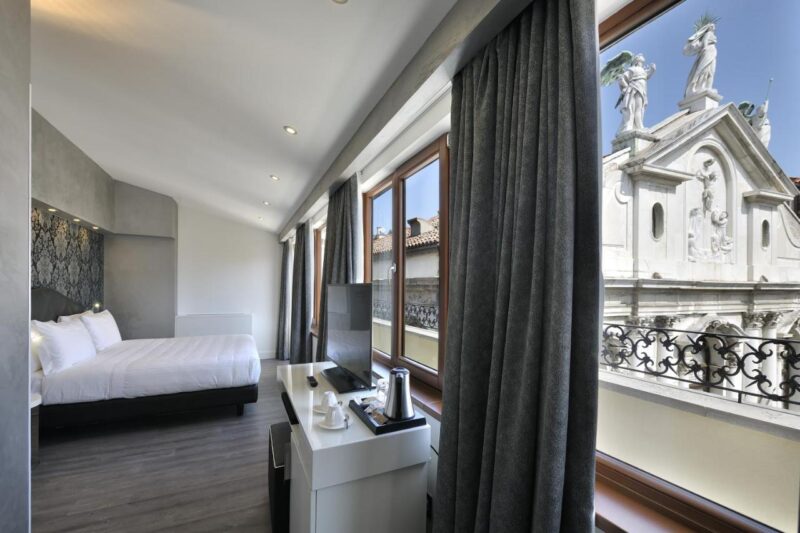 Situated in the center of Venice, in the same piazza as the Gran Teatro La Fenice and just 250 meters from St. Mark's Square, Al Theatro Palace will become a point of reference for all those who love art and music. This four-star hotel is a perfect combination of elegance and attentive service.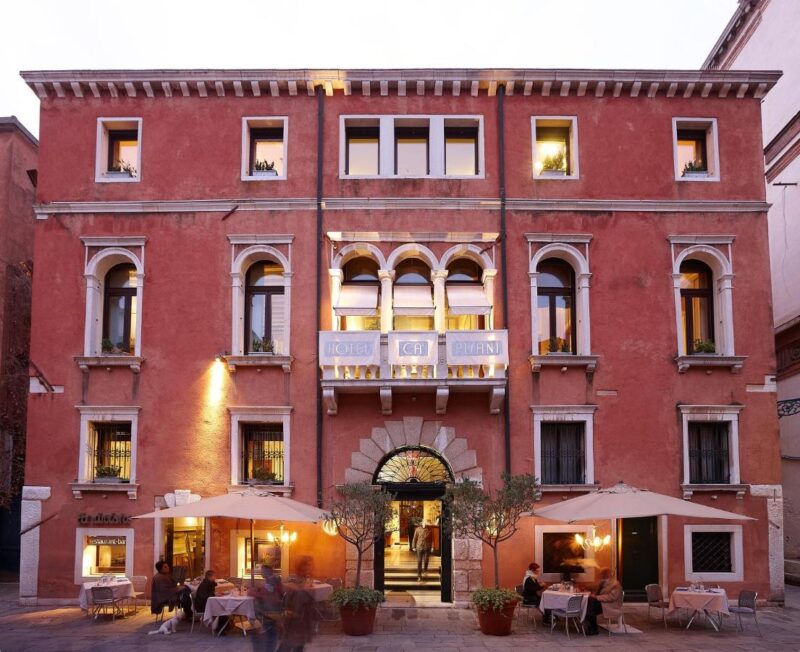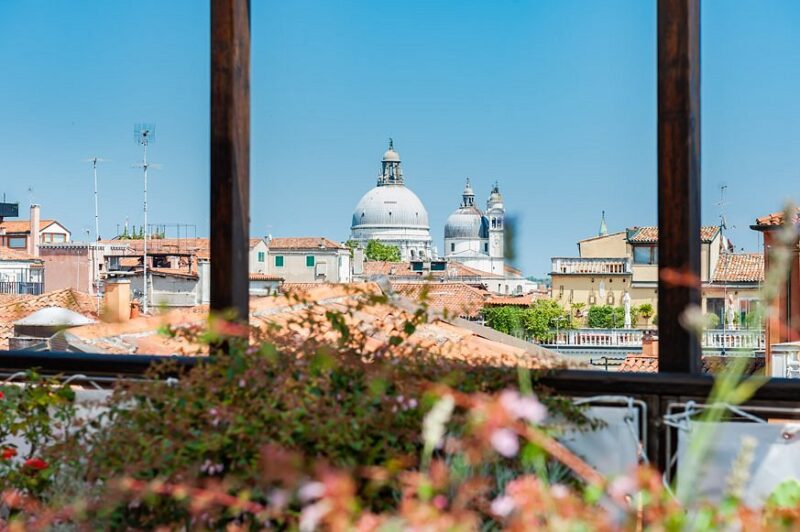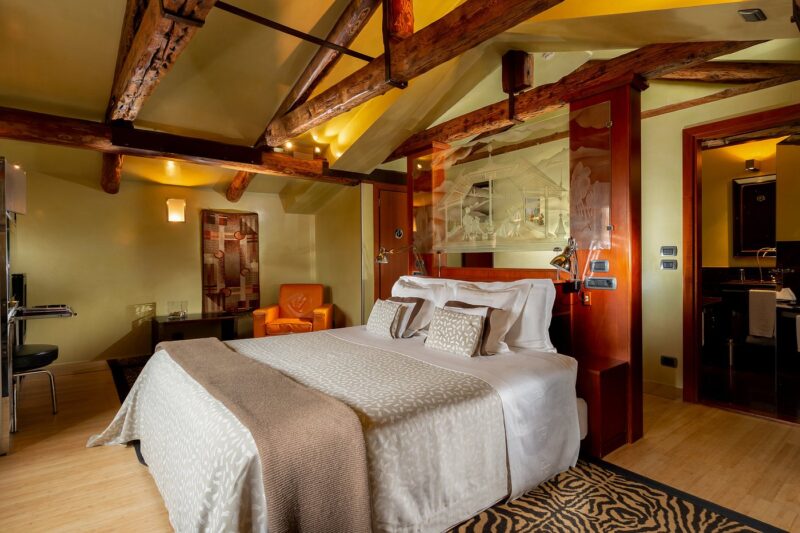 A magnificent late-14th-century palace is the treasure chest replete with charming jewels: the Boutique Hotel Ca' Pisani is an Art Deco gem where guests can stay in an art gallery adorned with original furnishings and tempera works by Fortunato Depero. The hotel is a stone's throw from the Grand Canal and the Guggenheim collection. The rooms are decorated with original Art Deco furnishings and feature a Turkish bath.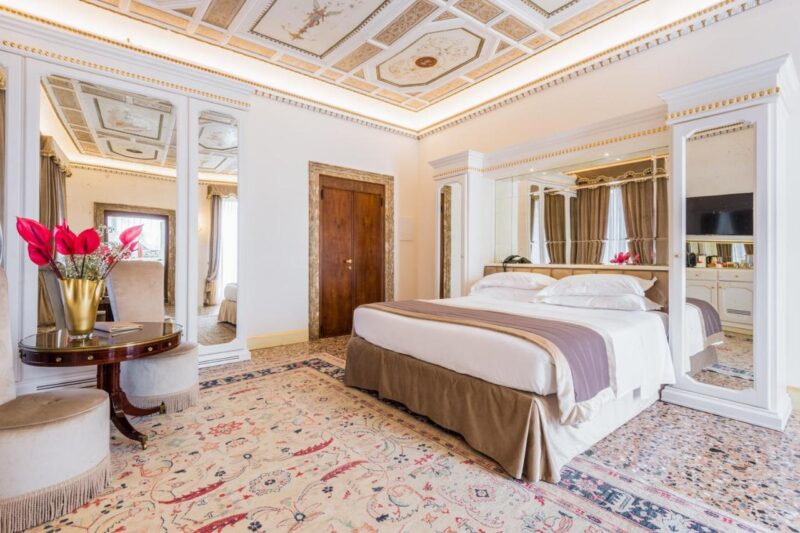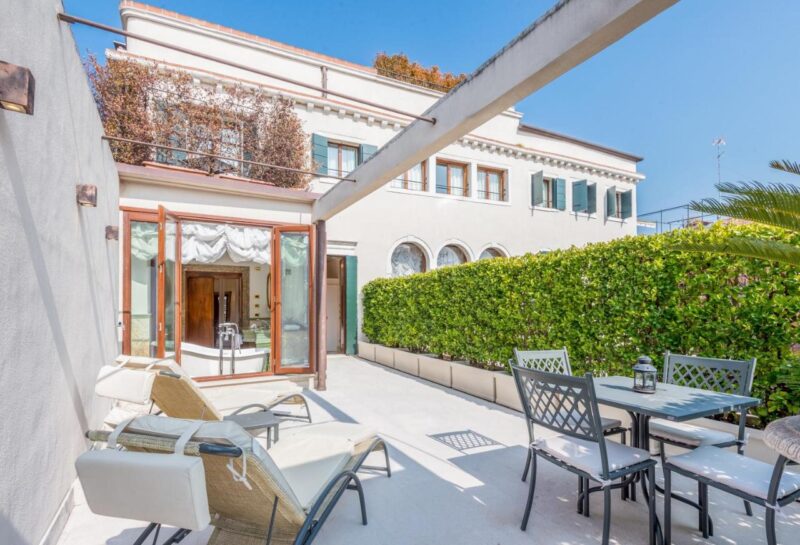 The Hotel Ai Cavalieri in Venice provides 4-star luxury accommodations, with its 18th-century frescoes, terraces overlooking Venice and ideal location just a short walking distance from the Rialto Bridge and St. Mark's Square, making your stay a truly unforgettable experience.
Venetian-styled furnishings, chandeliers, and sconces in Murano glass define unique spaces, complete with Wi-Fi connectivity and all the best modern amenities.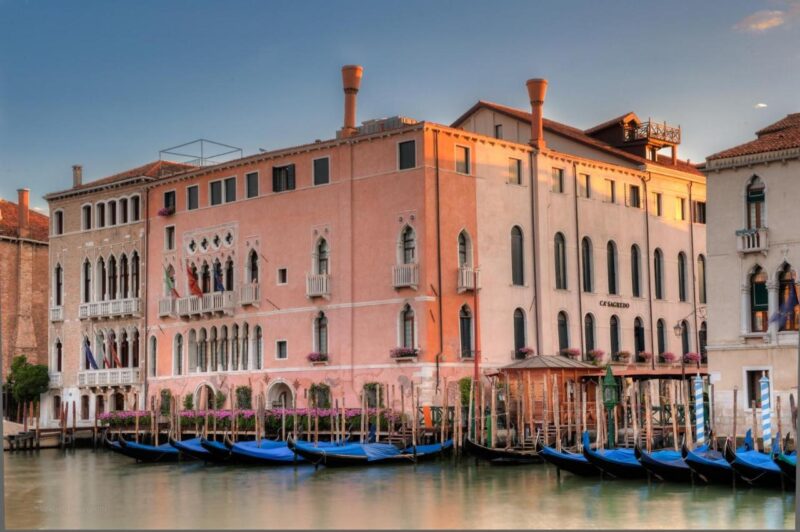 Ca' Sagredo Hotel is Venice's new luxury boutique hotel on the Grand Canal. A 15th jewel in a magical city, where the building's history intertwines with that of the Famiglia Sagredo, one of the most important in The Republic, whose destiny was bounded to the Doges and the city itself. The hotel offers 42 guestrooms, most with magnificent panoramic views over the Gran Canal, a trendy restaurant with an outdoor terrace over the water, and banqueting/meeting facilities.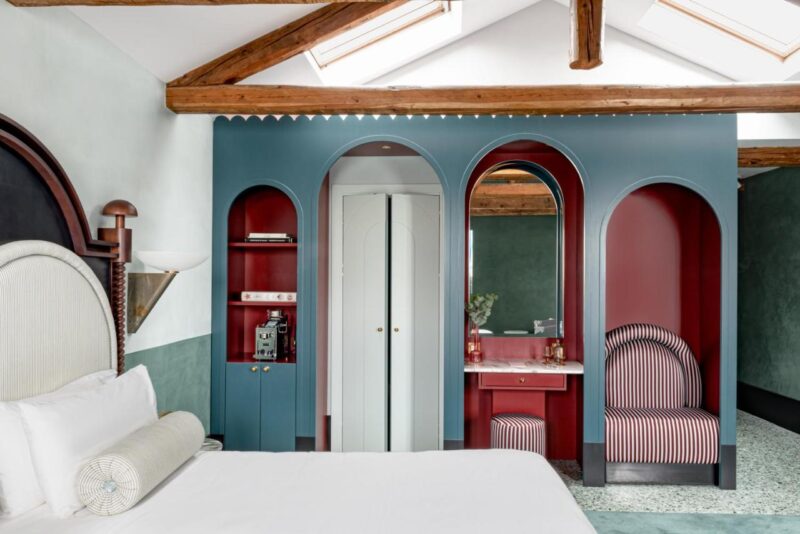 Il Palazzo Experimental offers accommodation in Venice's Dorsoduro district, 1.7 km from St. Mark's Square and Basilica, and within a 20-minute walk of Rialto Bridge. Housed in a traditional Venetian palace, the hotel includes a back garden overlooking a canal, a restaurant, and a wine bar.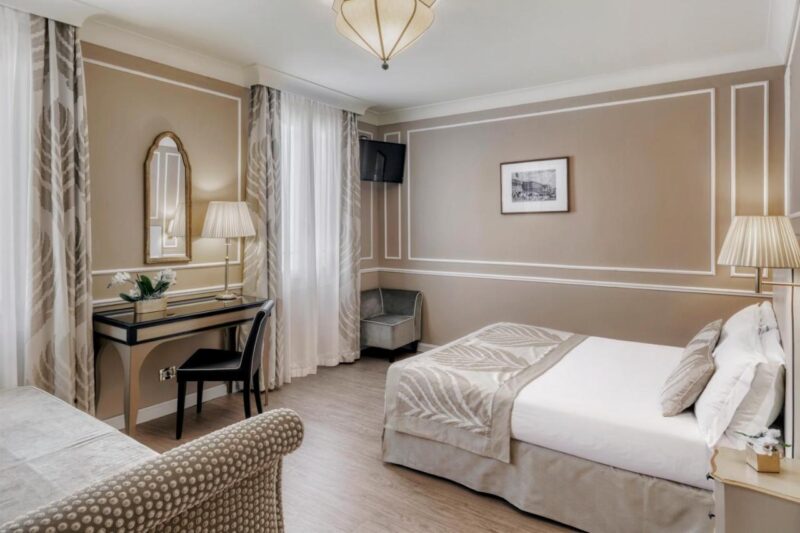 Hotel Nuovo Teson is set in a historic building of 3 floors, near the Arsenale water-bus stop and 300 meters from Saint Mark's Square. Set near the city's most historic area, Castello, Nuovo, Teson Hotel is near the Venice Biennale art show, just behind the Church of San Giovanni in Bragora.
Breakfast is a typical Italian buffet of different pastries, available daily from 08:00 until 10:30. It is served in a charming dining hall overlooking a small Venetian courtyard. Gluten-free products and soy milk can be requested upon booking.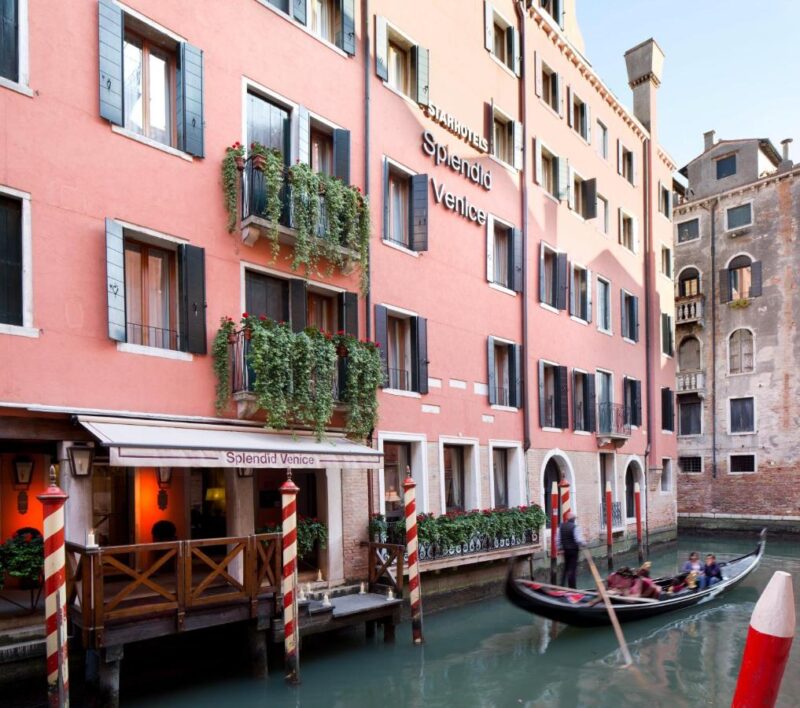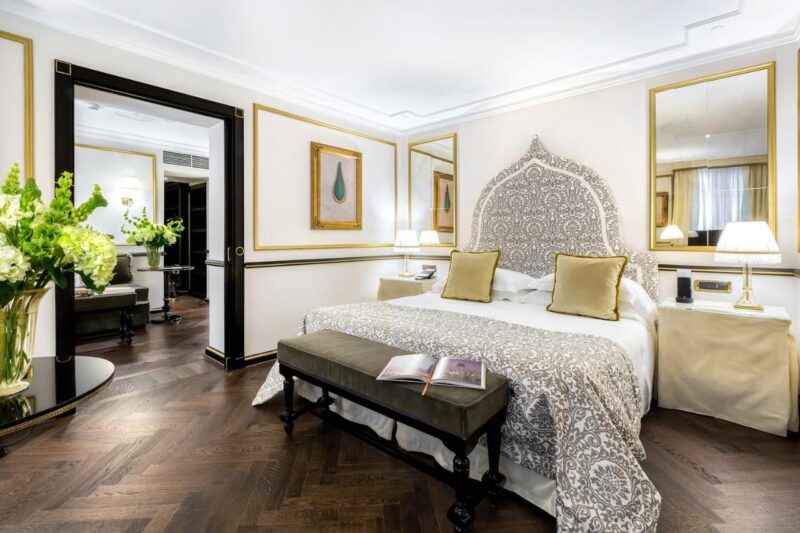 Just a few steps from some of the world's greatest sights, Splendid Venice is a charming luxury hotel, as elegant as Venice itself. In the sixteenth century, it was an inn; today, it is a residence of rare refinement overlooking the canals and the Mercerie, the age-old streets, or calli, that link Piazza San Marco and the Rialto bridge. The sun sets on the Bridge of Sighs / the Ponte dei Sospiri; the gondolas glide at the window.
With private mooring for boats, the hotel nestles in a central yet quiet location just a short stroll from some of the city's iconic landmarks. The 165 rooms and suites offer Venetian elegance at its finest. Many vaunt incredible views over the canals and rooftops, the bell towers, and the "altanas", typical Venetian terraces
Pin this post to save it for later