The twinkling lights, the scent of roasted chestnuts, and the sound of carolers singing in the streets – there's something undeniably enchanting about spending Christmas in Europe. As winter blankets the continent, Europe's cities and towns transform into holiday wonderlands, each offering its unique blend of festive traditions, culture, and charm.
Here are some of the best Christmas destinations in Europe that you can consider for your holiday trip.
You can check out our other round-up for the Top 10 Cheapest Destinations in Europe.
Vienna, Austria – A Symphony of Christmas Delights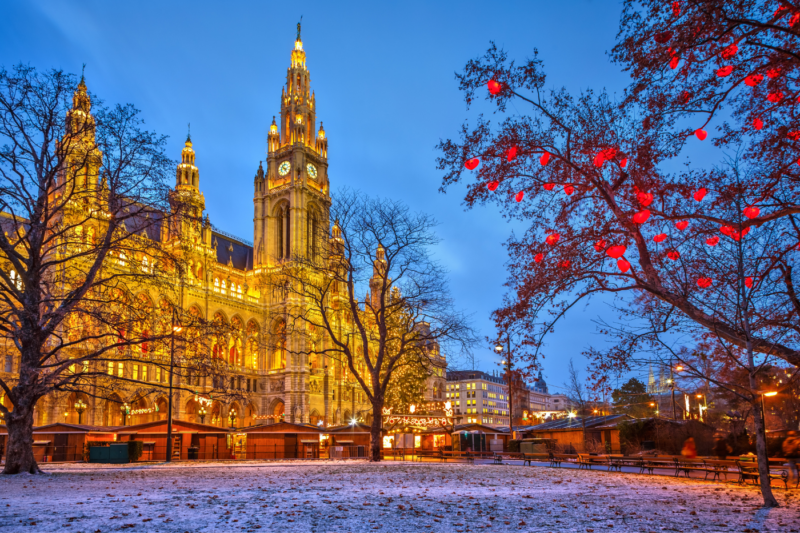 A Symphony of Christmas Delights: Nestled along the Danube River, Vienna welcomes the holiday season with open arms. Its Christkindlmarkt, or Christmas market, at Rathausplatz, is a sight to behold. Adorned with sparkling lights and beautifully crafted stalls, it's the perfect place to indulge in delicious Austrian pastries and shop for handcrafted gifts.
Visit the Schönbrunn Palace, which is often adorned with festive lights and decorations during Christmas. Inside, you can explore the Christmas Market at the Habsburg Palace, where you'll find handmade crafts and culinary delights. Don't miss trying traditional Austrian Christmas sweets like Maroni (roasted chestnuts), Lebkuchen (gingerbread), and Vanillekipferl (vanilla crescent cookies). You can also savor a cup of hot Glühwein (mulled wine) to warm up.
The Belvedere Palace hosts a charming Christmas market in its gardens, featuring artisanal goods and regional delicacies. The backdrop of the palace and its gardens adds to the enchanting ambiance.
If you're lucky, you might catch a performance by the world-renowned Vienna Boys' Choir at one of the city's churches or concert halls.
Check out the best hotel deals in Vienna.
Strasbourg, France – The Capital of Christmas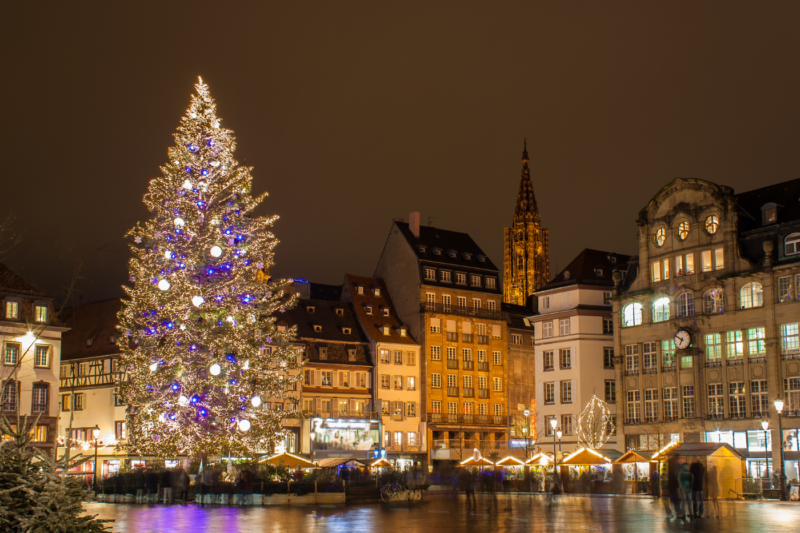 Known as the "Capital of Christmas," Strasbourg in France is a fairy tale come to life. Its Christkindelsmärik in Place Broglie is one of the oldest Christmas markets in Europe, offering visitors a taste of Alsatian culture and traditions. Meander through the cobbled streets, admire the stunning Strasbourg Cathedral and savor some flammekueche (a local specialty) as you soak in the festive atmosphere.
Visit La Petite France: This picturesque neighborhood, with its half-timbered houses and canals, is especially charming when dusted with snow. It's a great place for a winter stroll and to enjoy the city's historic ambiance.
Consider taking day trips to nearby towns in the Alsace region, which also offer their own unique charm in winter. Colmar, for example, is known for its well-preserved medieval old town.
Check out the best hotel deals in Strasbourg.
Rovaniemi, Finland – Meet Santa Claus in His Hometown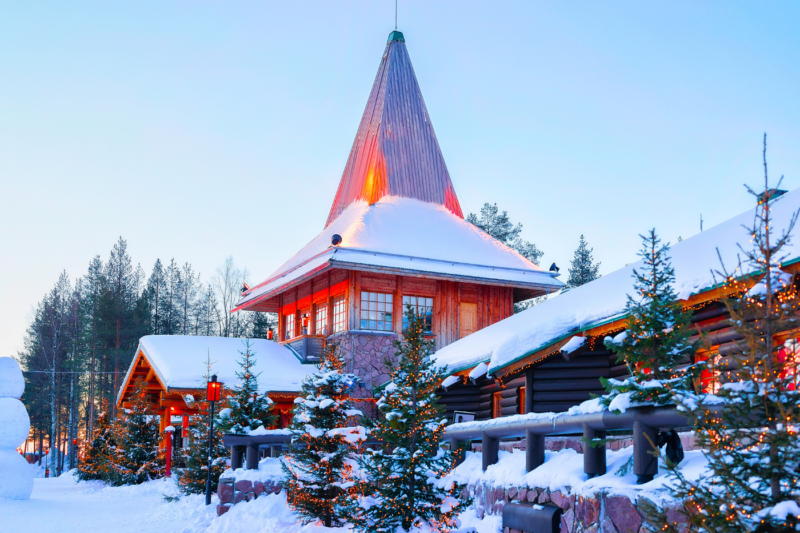 For those seeking a truly magical experience, Rovaniemi, Finland, is the ultimate Christmas destination. Rovaniemi is known for its stunning winter landscapes with snow-covered forests, frozen rivers, and pristine white expanses. It's also the "Official Hometown of Santa Claus,"  where you can meet the jolly man himself at Santa Claus Village.
You can visit Santa in his office, take photos with him, and even send postcards with a special Arctic Circle postmark. The Santa Claus Village is open year-round, but it's especially magical during Christmas when it's beautifully decorated with lights and festive decorations.
Rovaniemi experiences a snowy and cold winter during Christmas, making it the perfect destination for various winter activities. You can go dog sledding, snowmobiling, ice fishing, and even try your hand at ice swimming for a unique and invigorating experience.
Check out the best hotel deals in Rovaniemi.

Prague, Czech Republic – A Fairytale Christmas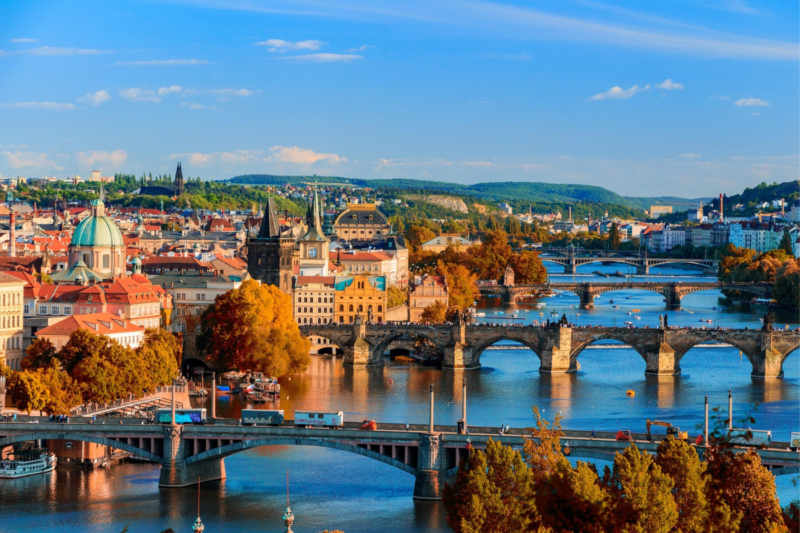 Prague's historic Old Town Square transforms into a winter wonderland during the holiday season. The towering Christmas tree and the beautifully decorated market stalls create an enchanting scene. Sip on hot mulled wine, explore the charming Old Town, and be sure to attend a classical music concert in one of Prague's historic churches for a truly unforgettable Christmas in Europe.
Another iconic location, Wenceslas Square, hosts its own Christmas market, offering a variety of goods, food, and a festive atmosphere.
Enjoy a winter walk up Petrin Hill for panoramic views of Prague covered in snow (if you're lucky). There's a miniature Eiffel Tower at the top, and it's a peaceful escape from the city's hustle and bustle.
Check out the best hotel deals in Prague.
Cologne, Germany – Where the Scent of Gingerbread Fills the Air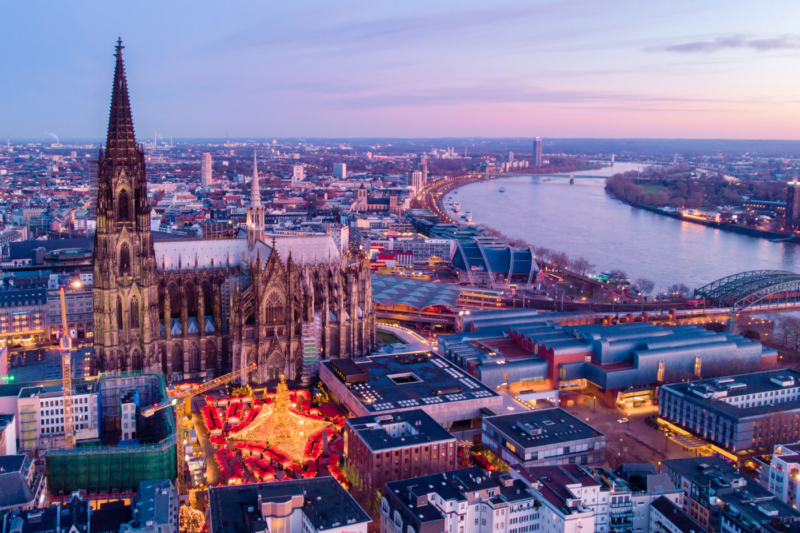 Cologne boasts several enchanting Christmas markets, with the one at Cologne Cathedral (Kölner Dom) being the most iconic. The towering cathedral provides a stunning backdrop to the market's festive lights and stalls. Sample traditional German treats like bratwurst and gingerbread cookies as you browse the unique crafts and gifts.
Another popular Christmas market in Cologne is the Alter Markt in the Old Town (Altstadt). It features a charming, nostalgic atmosphere with a carousel and a large Christmas tree.
Check out the best hotel deals in Cologne.
Edinburgh, Scotland – A Hogmanay to Remember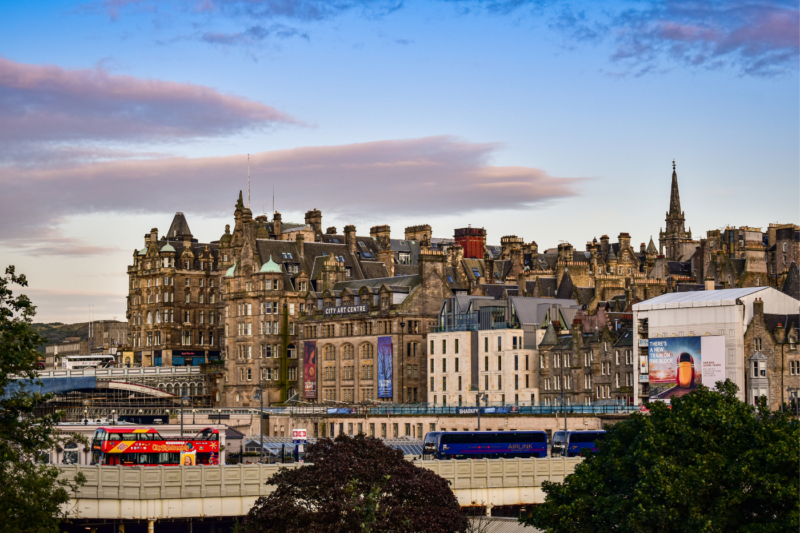 While Edinburgh is renowned for its New Year's celebrations, its Christmas market in Princes Street Gardens is equally delightful. The ice skating rink, the Big Wheel, and the stunning views of Edinburgh Castle create a festive atmosphere like no other. Warm up with a dram of Scotch whisky and savor traditional haggis to experience a Scottish Christmas.
Edinburgh's high street, Princes Street, is lined with shops where you can find unique gifts and festive treats. Multrees Walk is home to luxury boutiques for a high-end shopping experience.
While not specifically Christmas, Edinburgh's famous Hogmanay celebration is a must-see event during the holiday season. It includes a torchlight procession, a massive street party, and a spectacular fireworks display to ring in the New Year.
Check out the best hotel deals in Edinburg.
Valencia, Spain – A Mediterranean Christmas Fiesta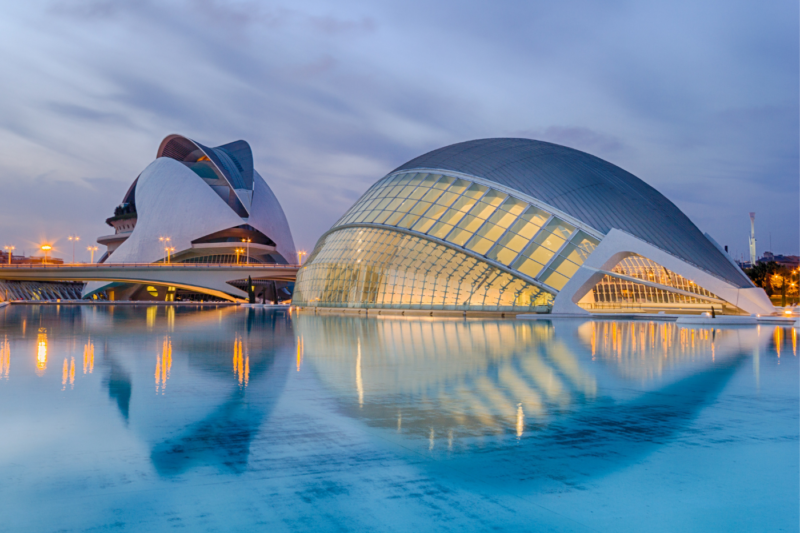 Valencia is a great choice if you prefer a warmer climate for your Christmas vacation.
While Spain may not be the first country that comes to mind when you think of a traditional Christmas, Valencia adds its own unique twist to the holiday season. Known for its mild Mediterranean climate, Valencia offers a different kind of Christmas experience. The heart of the city, Plaza del Ayuntamiento, transforms into a dazzling display of lights and color. The centerpiece, a massive Nativity scene, is a must-see, featuring intricate details and lifelike figurines.
One of the most cherished traditions in Valencia is the "Nit de Nadal," or Christmas Eve when families gather for a festive meal that often includes roasted lamb or seafood paella. You can also indulge in the region's unique Christmas sweets like "turrón" and "polvorones."
Valencia's Christmas market, located in the same square, offers various crafts, gifts, and decorations. But perhaps the most iconic feature is the intricate nativity scene competition, where local artisans showcase their talents in crafting miniature landscapes of the Nativity story.
While you're in Valencia during the Christmas season, don't forget to visit the City of Arts and Sciences, which often hosts special holiday events and illuminations, adding a touch of modernity to the festive spirit.
Check out the best hotel deals in Valencia.
Bruges, Belgium – A Winter Wonderland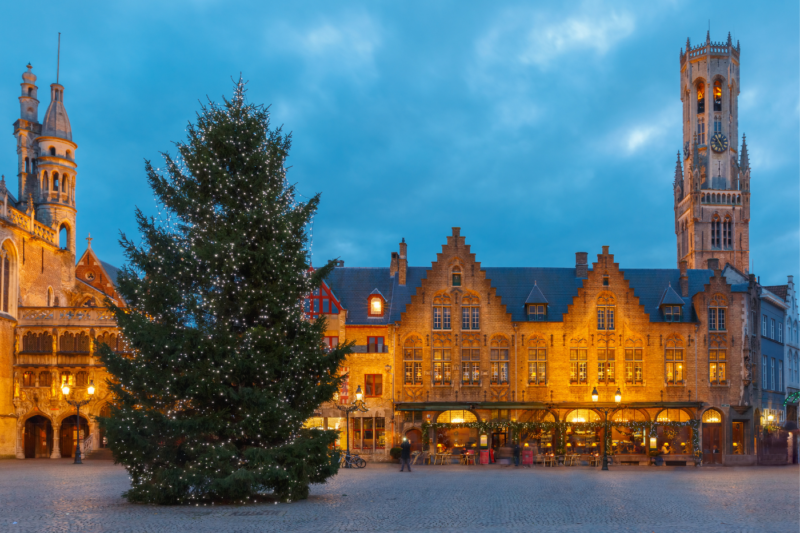 The medieval city of Bruges transforms into a picturesque winter wonderland during Christmas. The entire city center, a UNESCO World Heritage site, is adorned with thousands of twinkling lights and decorations. The Christmas market in the Grote Markt (Market Square) is the heart of the festivities, where you can savor Belgian chocolates, waffles, and mulled wine while browsing unique handmade gifts. Don't miss the ice skating rink in the city center, offering a magical experience beneath the backdrop of historic architecture.
One of the unique attractions in Bruges during Christmas is the Ice Sculpture Festival. Talented artists from around the world create intricate ice sculptures that are displayed in a giant ice palace. It's a must-see for visitors of all ages.
Check out the best hotel deals in Bruges.
Tallinn, Estonia – A Medieval Christmas Tale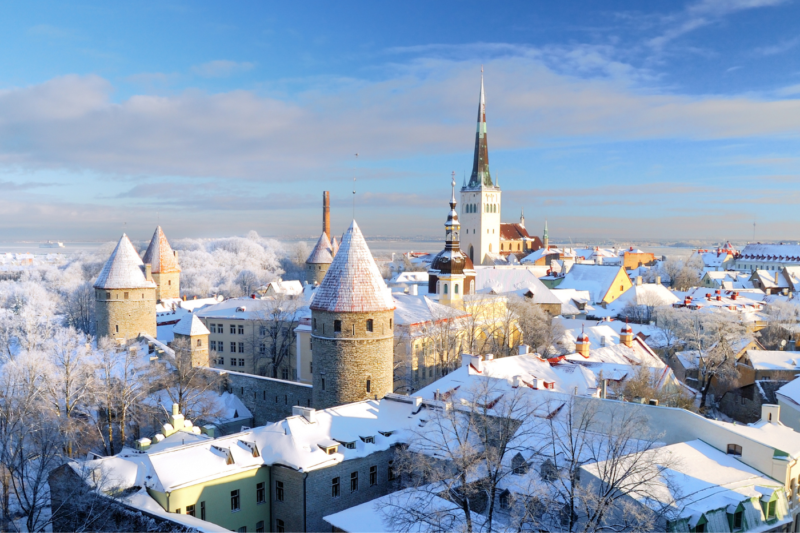 Tallinn, the capital of Estonia, boasts one of Europe's most charming and well-preserved medieval old towns. The heart of Tallinn's Christmas celebrations is the Christmas Market in the Town Hall Square (Raekoja plats). During Christmas, the Town Hall Square transforms into a fairy tale setting with a beautifully decorated Christmas tree and market stalls selling traditional Estonian crafts and treats. Enjoy hearty Estonian dishes like black pudding, sauerkraut, and gingerbread cookies. Tallinn's medieval architecture, dusted with snow, creates an unforgettable Christmas ambiance.
Some of Tallinn's public squares, like Harju Street and Freedom Square, host temporary ice skating rinks during the holiday season, allowing visitors to enjoy some winter fun.
Check out the best hotel deals in Tallinn.
Salzburg, Austria – The Sound of Christmas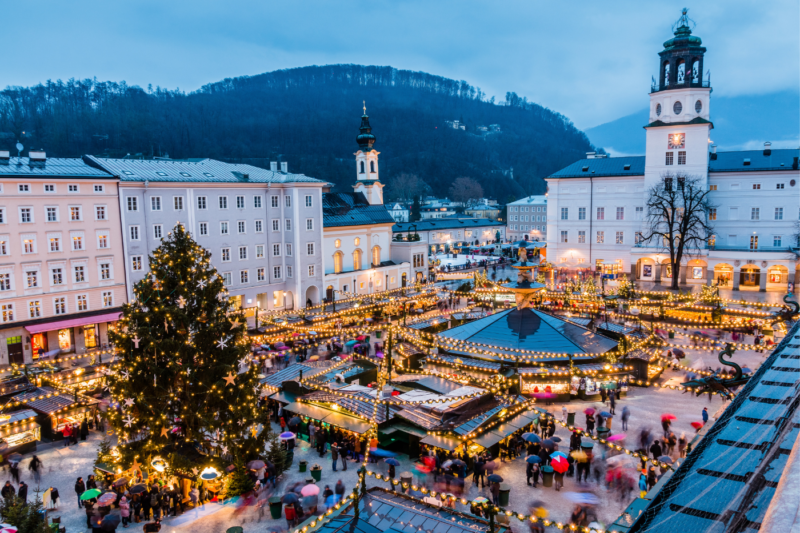 Salzburg, the birthplace of Wolfgang Amadeus Mozart, is not only a city of music but also a city of enchanting Christmas traditions. The historic old town comes alive with festive markets like the Christkindlmarkt at Residenzplatz and the charming Hellbrunn Palace Christmas Market. The roasted chestnuts and glühwein aroma fills the air as you explore the stalls filled with handcrafted ornaments and local delicacies. Experience the true Austrian Christmas spirit while enjoying classical music concerts and performances throughout the city.
Check out the best hotel deals in Salzburg.
Pin this post to save it for later.